Caring for People God's Way: Personal and Emotional Issues, Addictions, Grief, and Trauma by Tim Clinton & Archibald D. Hart & George Ohlschlager
Author:Tim Clinton & Archibald D. Hart & George Ohlschlager , Date: March 25, 2014 ,Views: 299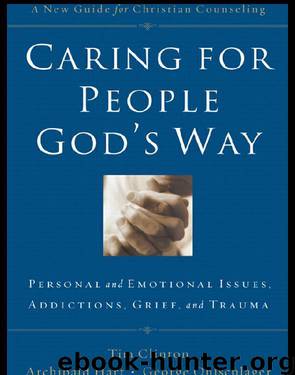 Author:Tim Clinton & Archibald D. Hart & George Ohlschlager
Language: eng
Format: mobi
Tags: Counsel, Psychology, Mind, Mental Health, Emotions, Counseling, Counselor
ISBN: 9780785297758
Publisher: Thomas Nelson
Published: 2009-09-21T22:00:00+00:00



13
Sexual Addiction
Mark R. Laaser
In our current sexually absorbed culture, working with sex addicts is a growth industry.
RECENT STATEMENT OF A COLLEAGUE OF MINE.
"Warren" was a pillar of his church. He was always seen as a great family man. He attended church all the time and often taught Bible classes. His wife and family seemed happy and content. As a Christian counselor at this church, you were surprised when he came in one day because he had been fired from his job for looking at internet pornography.
In the late 1970s, in three separate parts of the country, groups of men started gathering to use the 12 steps of Alcoholics Anonymous to try to get free of their sexual sins.1 Many of them were recovering alcoholics at first and knew that these principles had helped them get sober. It was the first time that the word addiction came to be applied to sex and the term sex addiction was born.
In 1981, Dr. Patrick Carnes, a clinical psychologist, wrote the first book on the subject, Out of the Shadows.2 Today there is still a clinical debate in the medical and psychological communities as to whether or not sex can truly be addictive. Thousands of recovering sex addicts would attest that using this diagnosis is helpful in knowing how to find freedom.
I write myself from the perspective of being a recovering sex addict. I began looking at pornography at age 11 and progressed into daily acts of masturbation. I started to visit massage parlors while in graduate school. In my early professional life I began having sexual encounters with a variety of women even to the point of being sexual with some women I counseled.
In 1987 I was intervened on and fired from every job I was doing. Fortunately a recovering alcoholic was a part of that intervention and knew that there was a treatment center directed by Dr. Carnes in Minneapolis where I went for in-patient treatment. I have been sober since that time and God has been gracious to me (Phil. 1:6) and allowed me to have a worldwide ministry trying to bring hope to others that they can be free.
My wife, Deb, stayed with me and has been a faithful companion in the journey of healing. From 1988 through 1992 I trained and worked with Dr. Carnes at the same hospital where I was treated. In 1992, I published the first book in the Christian community to address sexual addiction. This book has recently been revised.3
There have been other wise counselors who have written helpful books in this field: Harry Schaumberg4, Ralph Earle5, Pat Means6, Russ Willing-ham7, Earl Wilson,8 and Steve Arteburn and Fred Stoeker.9 We now know much more about how to identify sexual addiction and how to treat it. This is of paramount importance in our current culture. Cases like Warren's are becoming more and more common.
To realize how sexually saturated our culture is, simply remember what the availability of pornography was in the 1950s when Hugh Hefner published the first issue of Playboy and what it is today given the availability of it on the Internet.
Download


Copyright Disclaimer:
This site does not store any files on its server. We only index and link to content provided by other sites. Please contact the content providers to delete copyright contents if any and email us, we'll remove relevant links or contents immediately.