Canon EOS R50 for Dummies by King Julie Adair; & Theano Nikitas
Author:King, Julie Adair; & Theano Nikitas [King, Julie Adair & Nikitas, Theano] , Date: September 19, 2023 ,Views: 45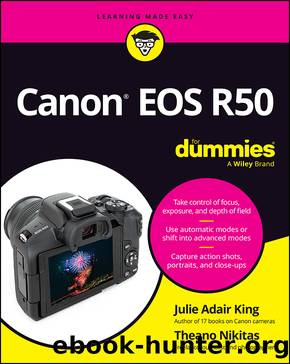 Author:King, Julie Adair; & Theano Nikitas [King, Julie Adair & Nikitas, Theano]
Language: eng
Format: epub
Publisher: John Wiley & Sons, Incorporated
Published: 2023-09-11T00:00:00+00:00



One confusing aspect of this menu screen is that you can't select an option and change the setting from Off to On, or vice versa. You just highlight which of the four settings you want to use and then press the Q/Set button or tap Set OK on the monitor. If you want to use autofocus with manual override, select either One-Shot Enabled or One-Shot Enabled (Magnify).
Disabling the Touch Shutter
Your camera offers a Touch Shutter. When you enable this feature, you can focus and take a picture with a single tap on the touchscreen. By default, the Touch Shutter is turned off, which means that your tap simply tells the camera which part of the frame to use when autofocusing.
We recommend leaving the Touch Shutter turned off. When the Touch Shutter is enabled, it's easy to accidentally tap the monitor and wind up with a picture you didn't intend to snap.
The Touch Shutter option is one of the few discussed in this chapter that you can control in A+ mode and other Basic Zone shooting modes. You don't have to use a Creative Zone mode (P, Tv, Av, or M).
To check the setting, look for the Touch Shutter symbol, shown in Figure 5-2. The left screen in the figure shows the location of the symbol in A+ mode; the right screen, in Av mode. (If you don't see the symbol, press the Info button to cycle through the displays until you reach one that shows it.) If you don't see the OFF label, tap the symbol to toggle the touch shutter off.
FIGURE 5-2: Leave the Touch Shutter off, as it is by default, to prevent taking a picture when you tap the screen.
Download


Copyright Disclaimer:
This site does not store any files on its server. We only index and link to content provided by other sites. Please contact the content providers to delete copyright contents if any and email us, we'll remove relevant links or contents immediately.