Candy Bomber by Michael O. Tunnell
Author:Michael O. Tunnell [Tunnell, Michael O.] , Date: October 16, 2014 ,Views: 604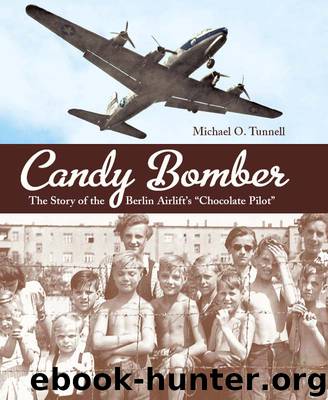 Author:Michael O. Tunnell [Tunnell, Michael O.]
Language: eng
Format: epub, mobi
ISBN: 978-1-60734-248-9
Publisher: Charlesbridge
Published: 2010-10-15T16:00:00+00:00



Mercedes Simon wrote to Lt. Halvorsen about her chickens that stopped laying eggs because of the noisy C-54s flying overhead. In this picture, taken the year before the Airlift began, Mercedes poses on the first day of school. Her shoes, purchased on the black market, are of the same style but are two different sizes.
Here is an example of the many thank-yous regularly received by Gail Halvorsen from grateful children in Berlin.
Often the pilots would receive letters thanking them not for the candy but for the food, fuel, and medicine that kept West Berliners alive. Here is a thoughtful letter, complete with drawings and a photograph of the sender.
Other letters were less humorous and far more poignant. A West Berlin father wrote to say he had nothing, absolutely nothing, to give his son for his birthday. He tried in vain to carve a little horse from wood, noting that his miserable failure proved that—contrary to common belief—not all Germans are great wood-carvers. Then, from his window, the father spotted a smudge of white against the gray roof. Hands trembling, he used a stick to rake in the parachute and his son's birthday gift.
Scraping up something for birthdays seemed a widespread problem. Another parent sent a letter thanking Lt. Halvorsen for providing the only present her son received when he turned sixteen. "It was the first sweets for the children in a very long time," Helga Müller wrote. "Chocolate can't be bought even with money." In fact, sweets were so precious that "if there was only one chewing gum, it would be passed from mouth to mouth," Inge Tscherner recalled years later in a letter to Halvorsen. "Everyone was allowed to chew 10 times."
Adults and children alike addressed Lt. Halvorsen with a variety of affectionate names in their letters: "Dear Angel from the Sky," "Dear Chocolate Uncle," "Dear Uncle from Heaven," "Dear Aviator of Chocolate," "Dear Mr. Candy Bomber," "Dear Flying Chocolate-Officer," "Dear Bonbon Pilot," and, of course, "Dear Uncle Wiggly Wings." Some letters began simply with "Dear Lt. Halvorsen." One such note arrived from Gertraud and Brigitte Schuffelhauer. "We live in Charlottenburg," they wrote, "and cannot to Tempelhof come. My sister and I like so much chocolate to eat, but our mother can us not buy and our father is dead. Please perhaps one time something for us to bring?"
By December not only Lt. Halvorsen but also every Berlin Airlift pilot was a hero to the kids of West Berlin. It was commonplace to see children crossing the ramp at Tempelhof or one of the other airfields to greet their benefactors. Followed by a parent, the youngsters would shyly approach the pilots and present them with armloads of fresh flowers that had somehow surfaced in the bombed-out city even in the dead of winter. Halvorsen recalls watching two little girls, bundled in their winter coats and trailed by their grandmother, hurrying across the wind-blown airfield. Smiling, they curtsied to the surprised American flyers, handed them a colorful reminder of summer's glory, and then skipped happily away.
Download


Copyright Disclaimer:
This site does not store any files on its server. We only index and link to content provided by other sites. Please contact the content providers to delete copyright contents if any and email us, we'll remove relevant links or contents immediately.