Bread and Dreams by Jonatha Ceely
Author:Jonatha Ceely [Ceely, Jonatha] , Date: May 26, 2023 ,Views: 18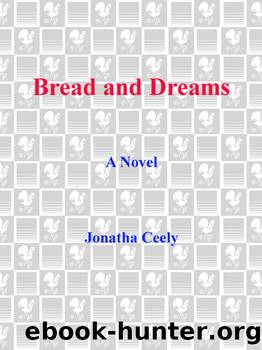 Author:Jonatha Ceely [Ceely, Jonatha]
Language: eng
Format: epub
ISBN: 978-0-440-33564-1
Publisher: Random House Publishing Group
Published: 2005-05-15T00:00:00+00:00



WEDNESDAY, SEPTEMBER 4, 1850
Last Sunday afternoon Honor and Aunt Jane and I went down to P. T. Barnum's Museum. When I arrived at Elizabeth Street there was a letter from my brother, with a message at the end from Guido DiRoma too. The rebuilding of their city is going on apace. It looks almost as elegant as Dublin or New York now, my brother says. Mr. DiRoma's message makes Honor smile. He may return to take up business in New York. His cousin wants help and only trusts a relative. Nothing is certain. My brother does not mention the matter.
After we read the letter several times, we fell to talking about the wonders of New York. Aunt Jane does not believe that San Francisco could equal it. I mentioned that my brother once promised to conduct me to Mr. Barnum's Museum, but we never went. Honor said we should all go out to see the museum and then have a treat at an ice cream shop. We took the omnibus down so that we would not be tired for walking all over the museum—
I stopped writing just now and sat by the window for a time. The moon is dark. Only the lights of the city illuminated the autumn sky of blowing clouds and faint stars. I must try to understand the world as it is.
Almost as soon as we had paid our fee and begun to look at the exhibits, I saw Mr. Serle walking with Madame Moses on his arm. He is not in Washington. Madame Moses noticed me first, I think, for she said something to him and laughed. He did not laugh at all but conducted her across the hall to speak to me.
"Miss Pigot," he said. "I am pleased to see you out with your friends."
He looked a little flushed. When he asked Aunt Jane if he might introduce his fiancée, Madame Moses, she said yes, with pleasure, in her polite way. I must have looked shocked, for Honor pinched my arm and whispered, "Courage, Mina," in my ear.
"You are engaged to be married, then," Aunt Jane said to Mr. Serle. "Congratulations."
The lady looks the same as ever, smooth and pale in her black dress and pelisse and black bonnet with just a little white lace set in about her face. I wonder that she does not celebrate her marriage by turning to bright colors. I would if I were happy.
"I am glad for you," I say to Mr. Serle. "I will pray for your happiness." And for my own peace too, I think.
Madame Moses smiles condescendingly when she hears my words, but Mr. Serle says, "Thank you," quietly.
I turn to the lady. "How proud you will be to take the name of Mrs. Serle," I say. "You will have such a gifted and kind husband."
I sound foolish to my own ears. How does one talk when one must be pleasant and yet would prefer to run away and weep?
Madame Moses winces at my speech, but not to call it foolish.
Download


Copyright Disclaimer:
This site does not store any files on its server. We only index and link to content provided by other sites. Please contact the content providers to delete copyright contents if any and email us, we'll remove relevant links or contents immediately.