Blue Diamonds by Antonia Marlowe
Author:Antonia Marlowe [Marlowe, Antonia] , Date: June 11, 2021 ,Views: 39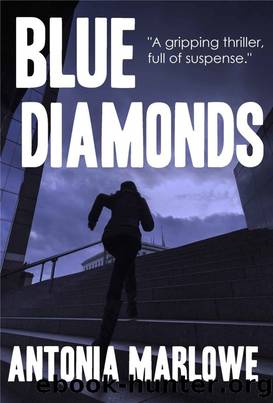 Author:Antonia Marlowe [Marlowe, Antonia]
Language: eng
Format: epub
Tags: Literature & Fiction, Women's Fiction, Contemporary Women, Mystery; Thriller & Suspense, Thrillers & Suspense, Suspense, Contemporary Fiction, Crime, Psychological, Romance, Short Stories
Amazon: B00QFQ9QNU
Publisher: The Book Folks Romance Books
Published: 2014-11-29T06:00:00+00:00



Tom missed very little where it concerned Chloe and had seen the look of surprise on her face when she saw Minty. He knew he had to do something. He greeted his younger sister with a hug and whispered to her, 'This is my Chloe, don't forget that, Minty. It's Chloe, whatever else you may think. I know I can count on you.'
Minty gave her adored brother a brilliant smile. 'Of course, Tom. Of course.' She left him and went over to the couch saying, 'Hi, Chloe, I'm the last of the terrible tribe, Minty. As long as you don't call me Minerva we'll be friends.'
'Hi, Gran Phyll,' she said cheekily, breaking two rules at once. 'Hello, Jenna. Move up a bit so I can have a bit of a chat with my new sister to be.'
Another surprise, but Chloe was starting to become accustomed to them in this house. And everyone seemed to take it for granted she would be marrying Tom. It should have been frightening, it should have prompted her to run away, but it didn't. It didn't because it felt right. This warm friendly family had taken her to its heart and she felt a part of it already. Almost.
After dinner, Phyllida took Chloe aside then beckoned to Tom. 'Come into the sunroom. I want to show you something.'
Intrigued they followed her, then sat where she indicated across from her on a two-seater sofa. On the coffee table between them she placed a small locked case and, with cruelly swollen arthritic fingers, struggled with a key to open it. She took out a ring and handed it to Tom.
'Remember this, Tom.'
They both gazed in wonder at the huge blue diamond in an old fashioned filigreed setting, as Phyllida said, 'Tom, I'd like you to have this remodelled for Chloe. Maybe a few small white diamonds surrounding it. The oval shape should suit your beautiful long fingers, Chloe.'
'Is that a sapphire?' asked Chloe, her eyes wide with wonder. 'It's so huge.'
Tom looked at her with an amused expression. 'Hold your hat, my pet. That is a blue diamond.'
'Blue? I've never even heard of a blue diamond.'
Tom, trying to looking earnest, said, 'Ahem. Short lecture time. Well, they are known as type IIB diamonds where a single boron atom replaces a carbon atom. See, the blue colour is caused by the presence of boron. In more common diamonds, a carbon atom is replaced by a nitrogen atom. Okay. Enough of that—it's my geology brain coming out. Now this little three-carat beauty is in good company, you could say a little sister to the famous Hope diamond. I'll take you to see it in the Smithsonian one day. So endeth the lesson.'
Chloe was speechless at the sheer beauty of the sparkling blue stone. Even though she had grown up in a wealthy family, her grandfather was a very austere man, and she had never been a spender on trifles. The most frivolous thing she could remember was the double
Download


Copyright Disclaimer:
This site does not store any files on its server. We only index and link to content provided by other sites. Please contact the content providers to delete copyright contents if any and email us, we'll remove relevant links or contents immediately.