Blow (Knockout Alpha Romance Series Book 2) by Sarah T. Ashley
Author:Sarah T. Ashley [Ashley, Sarah T.] , Date: January 14, 2021 ,Views: 14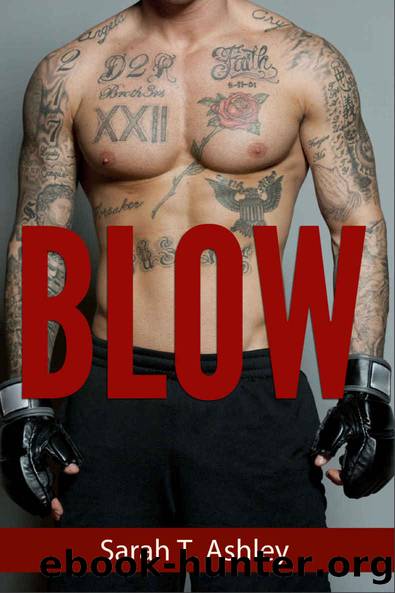 Author:Sarah T. Ashley [Ashley, Sarah T.]
Language: eng
Format: epub
Tags: alpha romance
Published: 2015-08-08T23:00:00+00:00



Chapter 6
I stared at her. "Just a quickie?"
"This is ridiculous. I don't care if you got me an extension. The only reason I need one is because you are insisting that we do this. " Emily rubbed her forehead. "I…I just think this isn't working right now. I need a break."
"A break? Are you serious? What? Are you breaking up with me?" I feel a surge of annoyance, and I want to tell her that she can't break up with me, I'm going to break up with her.
"No, I'm not breaking up with you, but I'm definitely going to step away from you for a while. If I don't, then we will break up," she said.
"I think I saw a bathroom just around the corner," I said as I took her hand. "We could go make up from this little tiff."
"Seriously," she said, yanking her hand away from me. "I'll see you back at the gym."
I watched her walk out the door of city hall, and let out a growl of frustration. My fist connected with the concrete wall before I could think about the action, and I winced in pain.
"That looked painful. Why are you trying to break our building?"
As I shook out my hand, I turned to see the receptionist that I had talked to earlier. She had unbuttoned her sweater so I had a good view of her cleavage. She was practically already purring, and it occurred to me that I could take her down the hall to that bathroom I had seen. I bet she would be willing to have a little quickie after hours. I could do it for her as a thank you for the extension she'd filed for us. No one would ever know but the two of us.
"Can I get you a band aid? Or something else?"
I swore she was leaning farther forward so that I had a clear view of her breasts. It would have been so easy, and I was hard just thinking about her, but then Emily's face flashed before my eyes. Ugh, I couldn't handle these feelings I had for her. Why did she have to be so unreasonable?
With a tight smile at the hottie in front of me, I said, "No, I'm fine. Thanks, though. I'll just be getting out of your way so you can close up."
"Do you want to meet for a drink after I'm done here?" she asked.
"No, thanks," I said, although I wavered slightly.
The girl pouted her pretty little lips at me. "Well, I'll be at Hank's on Fifth if you change your mind."
I shoved my hands into my pockets, and turned away from her without saying anything else. The fact that I had just turned down an easy piece of ass meant that I was slipping. My girlfriend was pissed off at me for trying to help her fix a problem that her damn father had gotten her into, and I wasn't even going to get laid out of it.
Since Emily had taken the car, I had to walk back to the gym.
Download


Copyright Disclaimer:
This site does not store any files on its server. We only index and link to content provided by other sites. Please contact the content providers to delete copyright contents if any and email us, we'll remove relevant links or contents immediately.