Autobiography of a Yogi (Reprint of the Philosophical library 1946 First Edition) by Paramhansa Yogananda
Author:Paramhansa Yogananda [Yogananda, Paramhansa] , Date: October 13, 2015 ,Views: 587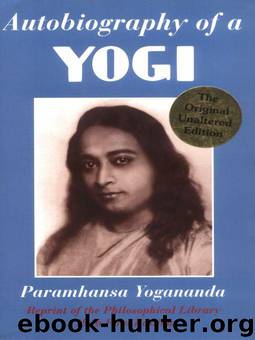 Author:Paramhansa Yogananda [Yogananda, Paramhansa]
Language: eng
Format: epub
Publisher: Crystal Clarity Publishers - A
Published: 2003-01-24T15:00:00+00:00



CHAPTER: 31
An Interview with the Sacred Mother
"REVEREND MOTHER, I was baptized in infancy by your prophet-husband. He was the guru of my parents and of my own guru Sri Yukteswarji. Will you therefore give me the privilege of hearing a few incidents in your sacred life?"
I was addressing Srimati Kashi Moni, the life-companion of Lahiri Mahasaya. Finding myself in Benares for a short period, I was fulfilling a long-felt desire to visit the venerable lady. She received me graciously at the old Lahiri homestead in the Garudeswar Mohulla section of Benares. Although aged, she was blooming like a lotus, silently emanating a spiritual fragrance. She was of medium build, with a slender neck and fair skin. Large, lustrous eyes softened her motherly face.
"Son, you are welcome here. Come upstairs."
Kashi Moni led the way to a very small room where, for a time, she had lived with her husband. I felt honored to witness the shrine in which the peerless master had condescended to play the human drama of matrimony. The gentle lady motioned me to a pillow seat by her side.
"It was years before I came to realize the divine stature of my husband," she began. "One night, in this very room, I had a vivid dream. Glorious angels floated in unimaginable grace above me. So realistic was the sight that I awoke at once; the room was strangely enveloped in dazzling light.
"My husband, in lotus posture, was levitated in the center of the room, surrounded by angels who were worshiping him with the supplicating dignity of palm-folded hands. Astonished beyond measure, I was convinced that I was still dreaming.
"'Woman,' Lahiri Mahasaya said, 'you are not dreaming. Forsake your sleep forever and forever.' As he slowly descended to the floor, I prostrated myself at his feet.
"'Master,' I cried, 'again and again I bow before you! Will you pardon me for having considered you as my husband? I die with shame to realize that I have remained asleep in ignorance by the side of one who is divinely awakened. From this night, you are no longer my husband, but my guru. Will you accept my insignificant self as your disciple?' 192
"The master touched me gently. 'Sacred soul, arise. You are accepted.' He motioned toward the angels. 'Please bow in turn to each of these holy saints.'
"When I had finished my humble genuflections, the angelic voices sounded together, like a chorus from an ancient scripture.
"'Consort of the Divine One, thou art blessed. We salute thee.' They bowed at my feet and lo! their refulgent forms vanished. The room darkened.
"My guru asked me to receive initiation into Kriya Yoga.
"'Of course,' I responded. 'I am sorry not to have had its blessing earlier in my life.'
"'The time was not ripe.' Lahiri Mahasaya smiled consolingly. 'Much of your karma I have silently helped you to work out. Now you are willing and ready.'
"He touched my forehead. Masses of whirling light appeared; the radiance gradually formed itself into the opal-blue spiritual eye, ringed in gold and centered with a white pentagonal star.
Download


Copyright Disclaimer:
This site does not store any files on its server. We only index and link to content provided by other sites. Please contact the content providers to delete copyright contents if any and email us, we'll remove relevant links or contents immediately.