2 Chairs by Bob Beaudine
Author:Bob Beaudine , Date: August 6, 2020 ,Views: 192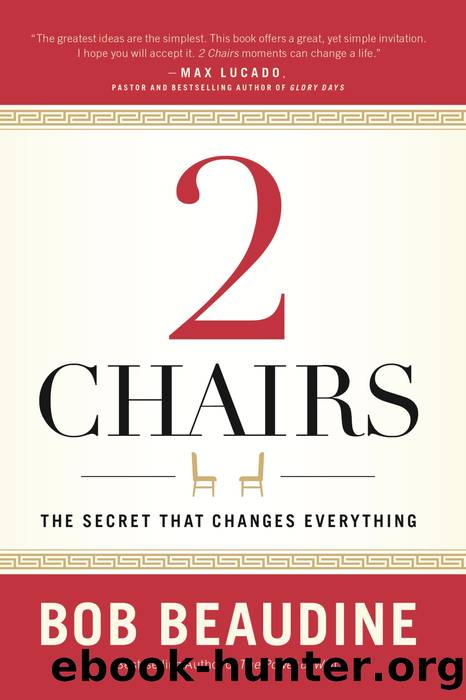 Author:Bob Beaudine
Language: eng
Format: epub
Publisher: Worthy Publishing
Published: 2016-08-14T16:00:00+00:00



Don't do 2 Chairs if you really don't want God to talk, because He will talk. Why? Well, for no other reason than He loves you. And He wants you to know it.
My dad mirrored this concept for me growing up. When he got home from work, he would always change from his work clothes and put on his jeans, sweatshirt, and ball cap. He knew how important it was to take off all the concerns from work when he got home, and changing clothes helped him focus on family. We would then grab some baseball gloves and throw the ball out in the front yard. I have to tell you that this was such a great time. Watching the movie Field of Dreams and seeing Kevin Costner's character ask his dad to play catch, I always tear up, because it reminds me of those times with my dad throwing the ball, talking about our day, laughing, and telling stories. It's in simple times like these, talking through life with our parents, that we get our sense of identity.
I did the same with my girls—Aly, Jenny, and Rachel—as they grew up. Each time we went out to kick the soccer ball, bump volleyballs, or play catch after I got home from work, I made sure we also had what I called "download moments." Moments to pass on wisdom and tell stories of tough times that God helped me through when I turned to Him. I learned from my wife, Cheryl, how important it is to make time to just listen to my girls. Young fathers need to hear this: Young girls aren't like boys. They need you to listen to them. Listening builds their self-esteem. From my experience with my three amazing daughters, I promise that if you will make time to listen, it will pay great dividends as years go on. Don't forget, always finish by giving them a hug and telling them how proud you are of them. And make sure you tell your daughters that they're beautiful … or someone else will!
Did you know God loves to have moments like these with you? He yearns to talk, laugh, listen, and share. If you didn't know it, He's got lots of stories to share with you about hardship, rejection, battles, miracles, and love. Have you figured out yet that you're one of His epic stories? You are not close to done yet, but He wants to tell you that you're loved, amazing, fabulous, and special. He wants you to know that as His beloved child, you are a person of infinite worth, of royal descent, and the object of His affection. When you're at your 2 Chairs, ask Him to help you understand this more. Then remind yourself to also read some of God's greatest stories in the Bible. I've heard so many people say that while they were at 2 Chairs praying, talking to God, they felt led to open the Bible. And when they did, God wouldn't stop talking.
Download


Copyright Disclaimer:
This site does not store any files on its server. We only index and link to content provided by other sites. Please contact the content providers to delete copyright contents if any and email us, we'll remove relevant links or contents immediately.