Zom-B: Mission by Darren Shan
Author:Darren Shan , Date: July 22, 2020 ,Views: 152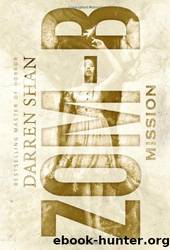 Author:Darren Shan
Language: eng
Format: azw3, mobi, epub
ISBN: 9780316214285
Publisher: Little, Brown Books for Young Readers
Published: 2014-04-08T00:00:00+00:00



THIRTEEN
In the morning we ready the humans and make sure they've sprayed perfume or aftershave all over . They wear old, dusty clothes, and have stained the fronts of many of them with their own blood, which they've extracted with syringes over the last few days, to make it look as if they've fed from the living. We warn them not to talk when we're outside, unless it's essential. No yawning, burping or farting. They're not to look around or show interest in anything.
We need them to appear as corpse-like as possible. Their disguise won't hold if any zombies come close, but from a distance they shouldn't draw too much attention. Of course every member of the undead will be interested in anything that braves the sunlight world, but we won't be the only zombies out there on the streets. I've seen groups at large before, packs which had to move on when their shelter burnt down, or stragglers who fell behind when they were chasing prey and who weren't prepared to admit defeat.
It won't be easy getting these guys to New Kirkham, but it's not Mission Impossible either. A slice of luck will be welcome, but we can probably do without it if we have to.
When everyone's good to go, we let ourselves out, cross the river and head south. Pearse and Conall lead the way. They're an odd couple. Both have ginger hair, but there the similarities end. Pearse is small and skinny, whereas Conall is built like a tower of bricks, almost a match for Rage.
They wear distinctive headgear. Conall prefers a pair of baseball caps, one the right way round, the other back to front to cover his neck. But Pearse has opted for a beekeeper's hat, mesh and all. He says it's because he has naturally delicate skin. 'The sun burnt the hell out of me even when I was alive,' he laughs. 'I have to be extra cautious now.'
Vinyl moves among the humans, circling constantly, quietly reassuring them, communicating any commands that we wish to pass on, holding everyone together.
I'm almost as nervous as the living. I don't know this area. I was an East End girl—nowhere east of Wapping fazed me in the slightest. I've adapted to Central London since moving to County Hall and have started to feel comfortable there. But places like Putney and Roehampton are alien to me.
We stick to open areas as much as we can, the middle of wide roads, parks when we come to them. I thought suburbia would be a breeze after the narrow streets of the city, but we're attacked far more frequently than we were on our way from Westminster to Hammersmith.
Fortunately there are rarely more than three or four zombies per group. They tend to gather in small packs here, making their base in what used to be family homes, rather than pile into a factory or warehouse in their dozens. Vinyl laughs quietly when I mention that.
'It must be a middle-class thing,' he says.
Download


Copyright Disclaimer:
This site does not store any files on its server. We only index and link to content provided by other sites. Please contact the content providers to delete copyright contents if any and email us, we'll remove relevant links or contents immediately.