Uneven Innovation by Jennifer Clark
Author:Jennifer Clark , Date: June 30, 2020 ,Views: 105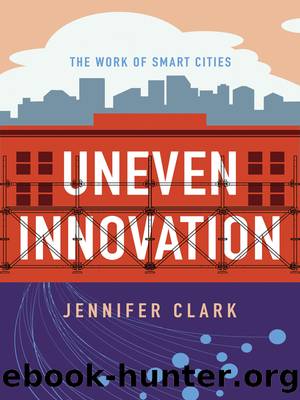 Author:Jennifer Clark
Language: eng
Format: epub
Tags: POL002000, Political Science/Public Policy/City Planning & Urban Development, SOC026030, Social Science/Sociology/Urban
Publisher: Columbia University Press
Published: 2020-02-11T00:00:00+00:00



DATA AS THE PRODUCT: REDEFINING RIGHTS TO INTANGIBLE ASSETS
One essential function of government is to define property rights and determine the legitimate (legal) methods of their exchange. In chapter 3, I argued that cities are of particular interest in the development and evolution of this emerging market because they are territories with known and predictable property rights. Cities are places with governance regimes and clear decision-making processes. How rights are allocated and enforced is not mysterious; those rights are on the public record. There is unambiguous precedent.
But in reality, cities have the power the change how property rights are assigned and exchanged. The assignment of rights is not static. Specifically, in the past, cities have responded to the commodification of intangible assets through legislation. New technologies lead to new products, processes, materials, and industry strategies, and those practices drive innovation in governance as well. Turning to history for analogs to better understand potential local responses to smart cities, one obvious illustration of innovative governance can be found: land use regulation and the emergence of zoning codes. The question, then, is whether this analog can serve as a precedent for how cities might respond to the smart cities project through a reconsideration of the allocation of property rights. There is potential for rethinking and reallocating the use rights to data obtained about the characteristics and behaviors of citizens at the scale of urban governance.
Land use regulations are arguably the most powerful policy tools in urban planning. Zoning could be considered as an example of innovation in local governance in response to technological change. This may seem counterintuitive, given that these land use laws first appeared in New York City more than a century ago and were upheld by the U.S. Supreme Court in Euclid v. Ambler in 1926.15 However, the parallel to the fundamental rationale for city-scale regulation reaches back to ambiguities about who held the property rights to certain intangible assets. Again, this might seem counterintuitive. Land use regulation seems so tangible and territorialized in its current cartographic codifications. In reality, land use regulations are much more about uses than they are about land. And here is where the parallel to the collection and use of smart cities data becomes instructive.
Zoning regulations are often explained as mechanisms to minimize onerous land uses in dense environments where the externalities generated by one owner's use infringes on the uses of other land owners or the underlying value of the property they hold. For the smart cities project, then, it is useful to think of land use regulations as a regulatory analog based in a somewhat more nuanced understanding of infringement and a recognition that zoning can be viewed as defining an intangible asset—the right to the use of space—through its territorialization.
Land use controls vary widely across jurisdictions, both across countries and between cities. In places such as the United States, local governments have highly tailored land use regulations that are specific to each jurisdiction. Land use regulations achieve a very simple goal:
Download


Copyright Disclaimer:
This site does not store any files on its server. We only index and link to content provided by other sites. Please contact the content providers to delete copyright contents if any and email us, we'll remove relevant links or contents immediately.