Trick Mirror by Jia Tolentino
Author:Jia Tolentino , Date: August 16, 2019 ,Views: 1133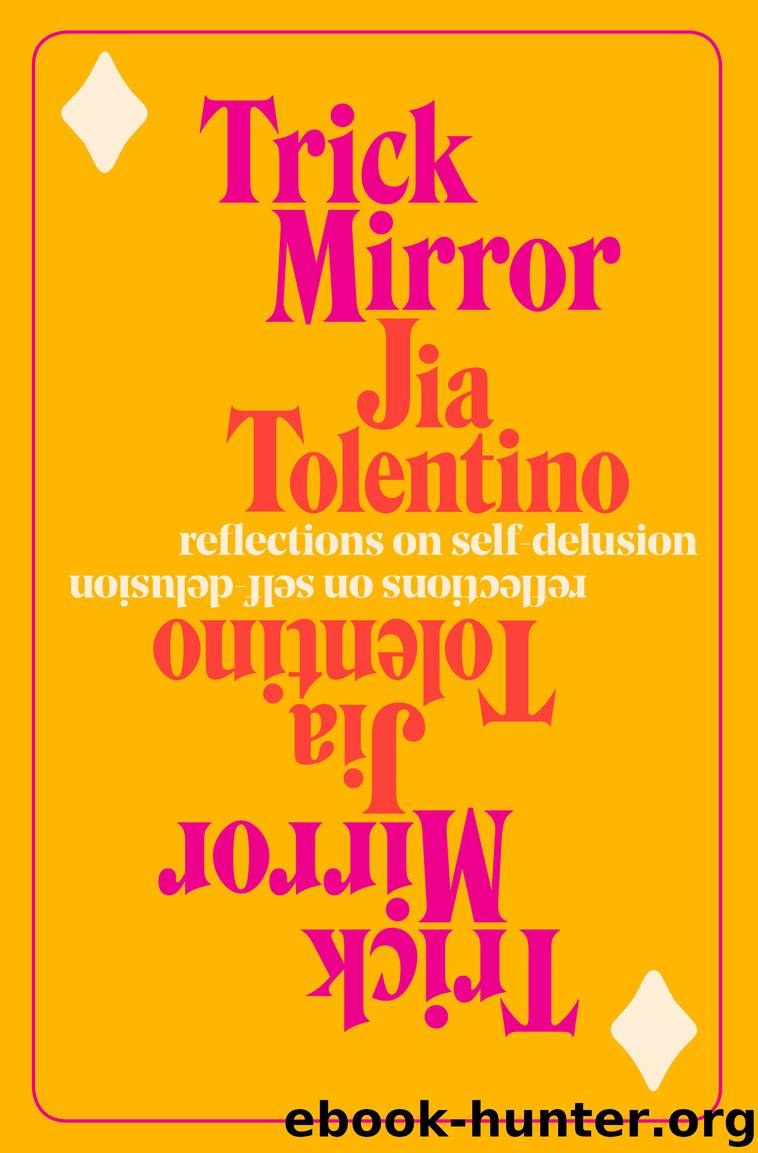 Author:Jia Tolentino
Language: eng
Format: epub, azw3
Publisher: Random House Publishing Group
Published: 2019-08-05T16:00:00+00:00



* * *
—
The last time I participated in anything on my old church campus was high school graduation. I was wearing a white flowered sundress under a royal-blue robe, and I was onstage at the Worship Center, looking up at the bright lights, toward the empty balconies, giving the salutatorian's speech. I had turned in a different speech for approval than what I delivered. I barely remember what I ended up saying—I know I made at least one joke about the Repentagon. My classmates whooped, but, as I crossed the stage to accept my diploma, an administrator hissed his disapproval. The distance between the place that formed me and the form I had taken was out in the open, and widening. The next Christmas, when I came home from college, my church held a holiday service at the Toyota Center, the huge downtown arena where the Houston Rockets play. I spent much of the afternoon getting stoned with a friend, and, in the middle of the spectacle, I started to lose it. The country star Clay Walker was singing, his face looming huge on the jumbotron. I left my parents, edging my way out of the stadium seating. Outside, on the perimeter of our church service, vendors were selling popcorn and brisket sandwiches and thirty-two-ounce Cokes. I went to the bathroom, overwhelmed, and cried.
I wonder if I would have stayed religious if I had grown up in a place other than Houston and a time other than now. I wonder how different I would be if I had cleaved to this feeling of devoted self-destruction—or even of solitude and striving, or writing, in the manner of Carson's three women—and only been able to find it through God. I can't tell whether my inclination toward ecstasy is a sign that I still believe, after all of this, or if it was only because of that ecstatic tendency that I ever believed at all.
I wonder, sometimes, if I have continued to do drugs because they make me feel the way I did when I was little, an uncomplicated creation, vulnerable to guilt and benevolence. The first time I did mushrooms, I felt perfect and convicted and rescued, like someone had just told me I was going to heaven. I walked down a beach and everything coalesced with the cheesy, psychotic logic of "Footprints in the Sand." The first time I did acid, I saw God again immediately—the trees and clouds around me blazing with presence, like Moses's burning bush. Completely out of my mind, I wrote on a napkin, "I can process nothing right now that does not terminate in God's presence—this revelation I seem ready to have forever in degraded forms."
Recently, I found myself doing this again—this time in the desert, that perennial seat of madness and punishment and epiphany, in a house at the top of a hill in a canyon where the sun and wind were incandescent, white-hot, merciless, streaking and scintillating across the bright blue sky.
Download


Copyright Disclaimer:
This site does not store any files on its server. We only index and link to content provided by other sites. Please contact the content providers to delete copyright contents if any and email us, we'll remove relevant links or contents immediately.