Trans-Siberian Railway by Lonely Planet
Author:Lonely Planet , Date: September 30, 2014 ,Views: 1123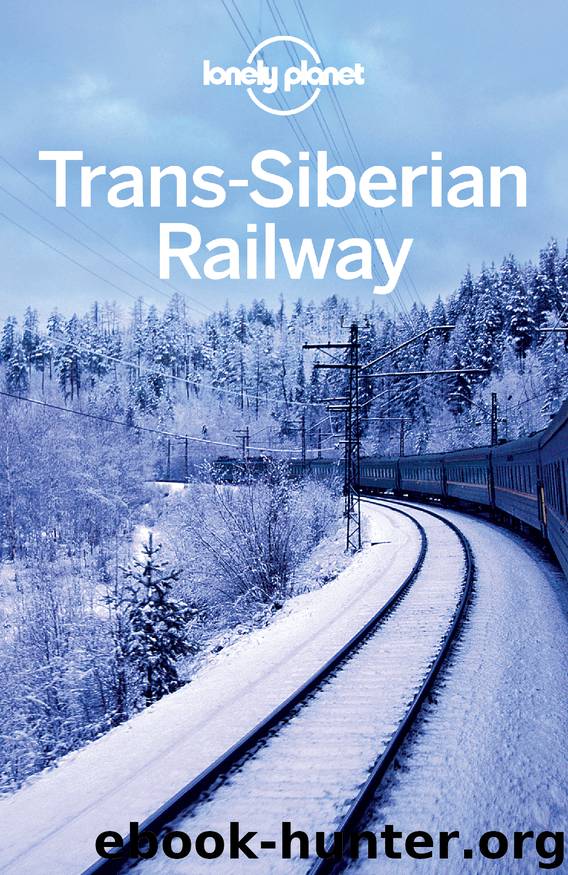 Author:Lonely Planet
Language: eng
Format: epub
Publisher: Lonely Planet Publications



Khabarovsk to Vladivostok
8523-9200km All trains from Khabarovsk to Vladivostok depart during the evening, leaving you mostly in the dark for the final 13 hours of your Trans-Siberian odyssey. One reason for the cover of darkness is that the line, in places, comes within 10km of the sensitive Chinese border.
8606km Here you cross the Khor River, which flows into the Ussuri River on the border of China. The train shadows the Ussuri all the way to Lesozavodsk (8938km).
8651km Most trains stop for 15 minutes at Vyazemskaya, where there will be plenty of people selling bread, salmon caviar, dried fish and pickles. From here the forests are dominated by deciduous trees, such as maple and elm, which briefly blaze in a riot of autumn colours during September.
8756km You'll probably be settling down for some sleep by the time the train makes a brief stop in Bikin. The line crosses the Bikin River here and follows it south to the border between Khabarovsky and Primorsky Territories (8780km). The southern forests of the 165,900-sq-km Primorsky Territory are the world's most northerly monsoon forests and home to black and brown bears, the rare Amur (Siberian) tiger and the virtually extinct Amur leopard.
8931km There's a 15-minute stop in the dead of night at Ruzhino.
9010-9080km About 30km either side of Spassk-Dalny (9048km), you may be able to make out Lake Khanka, a 4000-sq-km, lotus-covered lake that straddles the China–Russia border.
9177km At Ussuriysk, you can contemplate changing to the branch line west to Hā'ěrbīn (Harbin) in China; the train goes only twice a week and is monotonously slow. Ussuriysk, formerly named Nikolskoe in honour of the tsarevich's 1891 visit, and home to a smattering of historic buildings, was once of greater size and importance than nearby Vladivostok.
9249km After a week of travel from Moscow, you finally meet the Pacific Ocean – in the form of the Amursky Gulf – just south of the town of Prokhlodnaya. It should be dawn by now as the train travels south along the hilly peninsula that forms the eastern side of Amursky Gulf, passing a series of beach towns such as Okeanskaya (9266km), Sanatornaya (9269km) and Sedanka (9271km). Further south, Vladivostok rises in a series of concrete tower blocks on the hillsides.
9288km Your epic journey ends (or begins) on the platform at the station in Vladivostok (Click here). Before leaving, take a moment to admire the old locomotive on the platform beside the monument commemorating the completion of the great railroad you've just travelled along.
Download


Copyright Disclaimer:
This site does not store any files on its server. We only index and link to content provided by other sites. Please contact the content providers to delete copyright contents if any and email us, we'll remove relevant links or contents immediately.