The Whispering Room: A Jane Hawk Novel by Dean Koontz
Author:Dean Koontz , Date: November 22, 2017 ,Views: 2469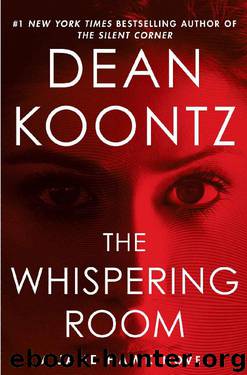 Author:Dean Koontz
Language: eng
Format: epub, mobi
Tags: Thriller, Mystery, Fiction, Thrillers, Suspense, Action & Adventure, Psychological
ISBN: 9780345546814
Google: ZQ6jDgAAQBAJ
Amazon: 0345546806
Goodreads: 34962255
Publisher: Random House Publishing Group
Published: 2017-11-21T06:00:00+00:00



10
* * *
Gallery to gift shop, to T-shirt store, to art-glass shop, to bakery, along residential streets and back to the main drag, Jane explored, not sure what she was seeking, compounding observations that might help her ascertain the nature of this town and what relation it had to the walled estate that stood miles from here.
She was intrigued by the perfection of the crafted buildings and amazed at the cleanliness of everything. She marveled at the matched ranks of graceful trees and wondered about the scarcity of children and the apparent absence of dogs.
As the cool day grew cooler and the clouds curdled darker, the light-sensitive solenoids controlling thousands of tiny low-wattage white bulbs on the trees brought a holiday glow to the street two hours ahead of twilight, and Iron Furnace showed why locals might call this the Town Where It's Always Christmas.
Jane stood on the sidewalk, looking north and south. Although the display dazzled, the effect on her was not Christmasy. Instead, she thought of the pulse and flash of Las Vegas, where the neon was meant to paint a veneer of glamour over the sordid truth of gambling addiction and financial self-destruction. These were Christmas-lights-as-distraction, because in spite of its wholesome aspects, Iron Furnace had a dark vibe that she could feel if not explain.
Having skipped lunch, she went into an Italian restaurant at just 4:15 and was escorted to one of the empty high-backed booths.
Phalanxes of red-white-and-green flags hanging from the high ceiling. Wall murals of historic sites in Rome. Red-and-white checkered tablecloths. Candles in red glass votives. They hadn't missed a décor cliché, but the place looked clean, and mouthwatering aromas threaded the air.
According to the name embroidered on the display handkerchief in the pocket of the waitress's uniform blouse, her name was Freya. A pretty girl in her twenties. Coffee-and-cream complexion spotted with cinnamon-colored freckles. She might have had both Ireland and Africa in her heritage. She was quick to smile and shared with her townspeople a demeanor that was pleasant and welcoming.
Jane ordered a glass of good Chianti while studying the menu, and when Freya returned with the wine, she was willing to be chatted up here in the lull before the dinner rush.
"Quite a town," Jane said.
"It's just like a picture postcard, isn't it?"
"Totally. Have you lived here long?"
"All my life. I'll never move. No one would who's lived here."
"Never? Wow. Never is a long time."
"Not in Iron Furnace. It's so nice here all the time, the days just go by lickety-split."
"If someone was thinking of moving here, you'd recommend it?"
"Oh, sure! Is it you thinking about it?"
"My boss. He visited last year, thinks he wants to move here if I can find him a place. He works from home, he can live anywhere."
"Move from where?" Freya asked.
"Miami."
"Miami must be real nice, huh? Palm trees and beaches."
"Mosquitoes, killer humidity, flying cockroaches," Jane said.
"Oh, you're just poking fun."
"Maybe a little. My problem is, I don't see many suitable properties around here. I mean for a guy with his expectations.
Download


Copyright Disclaimer:
This site does not store any files on its server. We only index and link to content provided by other sites. Please contact the content providers to delete copyright contents if any and email us, we'll remove relevant links or contents immediately.