The Shadowhunter's Codex by Cassandra Clare & Joshua Lewis
Author:Cassandra Clare & Joshua Lewis [Clare, Cassandra & Lewis, Joshua] , Date: March 19, 2023 ,Views: 45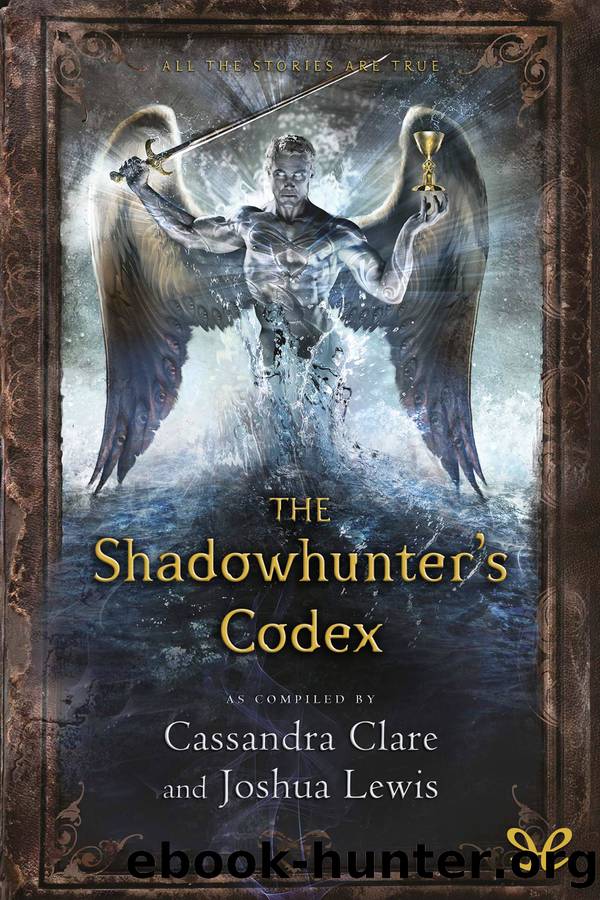 Author:Cassandra Clare & Joshua Lewis [Clare, Cassandra & Lewis, Joshua]
Language: eng
Format: epub
Tags: Novela, Fantástico, Juvenil
Publisher: ePubLibre
Published: 2013-01-01T00:00:00+00:00



MUNDANES WHO ARE NOT ENTIRELY MUNDANE
They are somewhat cool. But not as cool as Shadowhunters.
Lays it on a little thick though. Shadowhunter doth protest too much, methinks.
Methinks too.
There are, of course, mundanes who are not entirely mundane—whose families have, somewhere in their history, faerie blood, or werewolf blood, or even, rarely, Nephilim blood. This blood persists through generations, and these mundanes may be identified by having the Sight and by being able to see through some glamours. (Most, however, still never notice any supernatural activity, because they are not prepared to see it. An important rule of glamours: For the most part people see what they wish to see. (See "Glamours and the Sight.") Even Sighted mundanes will often look past strange appearances and explain them as illusions or misunderstandings.)
Many of these mundane-yet-Sighted families used to act as the servants and caretakers of various Institutes and wealthy Shadowhunter families; however, in most parts of the world, the practice of keeping servants has long gone out of fashion, and these families have ceased their relationships with the Nephilim. Several generations have passed since this happened in North America and Europe, and most living members of these families no longer even know that their ancestors once served the Nephilim.
Even those mundanes who do not possess the Sight may often find themselves drawn to places of magic and power, though they will not understand why. Sometimes they will find themselves compelled to make some physical mark on such a place—to build barriers separating it from the places around it, to decorate it, even to deface or vandalize it. This can be annoying to Nephilim and Downworlders who need to make use of these sites of power, but again we urge you to have patience and pity for these mundanes. There must be some magic deep within the collective memory of all humans, for otherwise how could we (and Downworlders) make use of any magic, even with the addition of angel or demon blood? We must, all of us, have at least the potential to be of the Nephilim. That magic spills out into all the world, and it is part of our responsibility as Shadowhunters to maintain it.
(See also: "Mundane Demonic Cults." )
Just your everyday run-of-the-mill demonic cult.
Download


Copyright Disclaimer:
This site does not store any files on its server. We only index and link to content provided by other sites. Please contact the content providers to delete copyright contents if any and email us, we'll remove relevant links or contents immediately.