The Poop Diaries by Abby Ross
Author:Abby Ross [Ross, Abby] , Date: March 29, 2020 ,Views: 227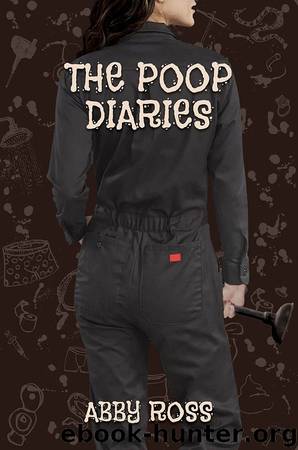 Author:Abby Ross [Ross, Abby]
Language: eng
Format: epub
Publisher: Black Rose Writing
Published: 2016-03-09T16:00:00+00:00



THE WOMAN WHO
STUCK AROUND…FOREVER
On a chilly, winter evening, my buddy called me. He was at a woman's house, hanging out with a group of musicians.
"Hey man, come over here right now," he said. "Put down everything you are doing and come over here. I want you to unclog this drain for these people."
It was 9 p.m. The thought of getting off my couch, going to someone's house and unclogging a drain did not appeal to me that late at night.
"I cannot come over," I said. "I am tired. I do not feel like working. I cannot do it."
"Man, come over here!" he pleaded. "Please look at this job."
"Ugh, fine," I said. His begging made me cave.
The house was in a quiet, residential neighborhood. A line of cars was parked along the driveway. I knocked on the door with my flashlight in-hand. My buddy answered.
"Hey man," he said, with a big smile on his face. "Thank you for coming over so quickly. Come inside."
About fifteen people, including several beautiful women, were hanging out in the living room. Some were playing cards; others were talking.
"Hey," said my buddy. "This is the lady who rents the house. She wants to show you the drain."
He pointed to a pretty, light-skinned girl standing across from him. She wore blue jean shorts and a pink t-shirt, which showed off her belly. Her hair was long and dark and had streaks in it.
"What is the problem?" I asked.
Since she was so pretty, most guys would have been nervous to talk to her, however not me. When I talk about plumbing, my mind drifts somewhere else. Plumbing puts me in my comfort zone. I can focus on it no matter who is standing in front of me, and I am confident talking about it because I know the trade so well.
"Follow me," said the girl.
She walked me through the house, into the kitchen.
"This sink is clogged," she said, pointing to the kitchen sink, which was filled with water.
"I am sorry, but I cannot fix this tonight," I told her, tiredly. "If you can get someone else to come here tonight, great. If not, I can come by in the morning. I just cannot work this late at night."
To my relief, she understood.
"Okay," she said. "Let me get your number. You can come back and do the job."
I gave her my number and left. The next day, I showed up at 10 a.m. A few ladies from the night before were still there hanging out. The girl welcomed me inside and walked me to the kitchen.
"Go ahead. Please take care of it," she said, pointing to the sink. She then went upstairs.
I crouched down underneath the sink and unclogged the drain. The blockage was not anything serious, just food along with some grease. Since it was a newer house, it had a PVC line, which was easy to open.
Download


Copyright Disclaimer:
This site does not store any files on its server. We only index and link to content provided by other sites. Please contact the content providers to delete copyright contents if any and email us, we'll remove relevant links or contents immediately.