The Genius of Japanese Carpentry by Azby Brown
Author:Azby Brown , Date: January 25, 2018 ,Views: 2360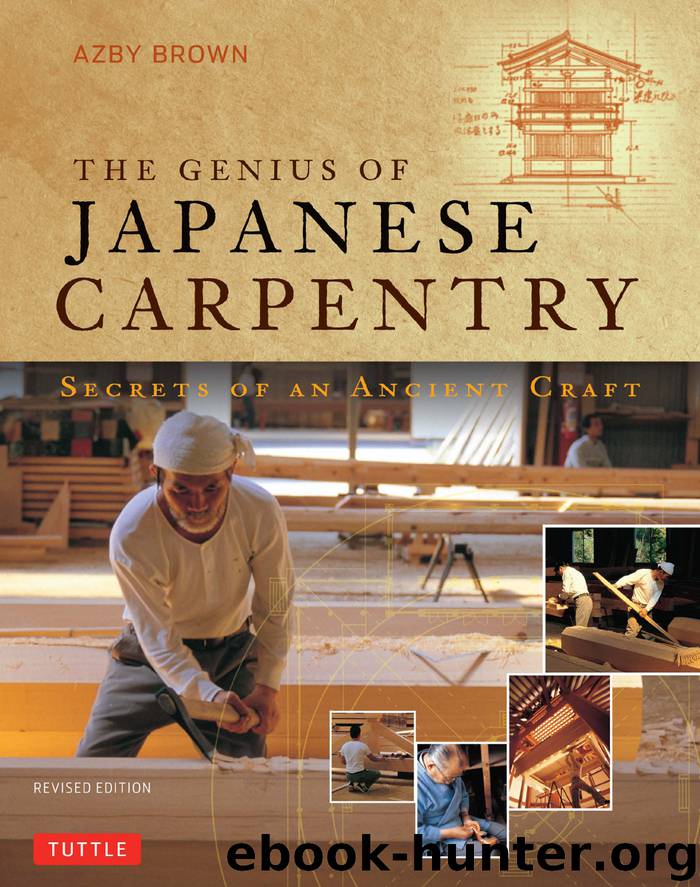 Author:Azby Brown
Language: eng
Format: epub
ISBN: 978-4-8053-1276-6
Publisher: Tuttle Publishing



Figure 39 The Octagonal Hall was built for the protection and veneration of the relics of the monk Genjō Sanzō (Hsuan-tsang). It is the most technically complex building in the Sanzō-in.
Figure 40 The relics of Genjō Sanzō are housed beneath a life-sized statue of him in the center of the Octagonal Hall.
Figure 41 Plan of the Sanzō-in subcompound.
Figure 42 Axonometric of Sanzō-in.
Because the Sanzō-in is a new complex, the designers thought it unnecessary to follow the eighth-century style of Yakushiji's main complex. Rather, they viewed this as an opportunity to demonstrate construction in a later historical style, and settled on the Kamakura-period wayō style because of its relative economy and quintessentially "Japanese" nature.
Thus, for the Sanzō-in compound, Nishioka and Ōta produced an original design based on several historical examples, incorporating features drawn from all while maintaining consistent proportional relationships. The overall size of the complex was determined by several factors. First, the religious function of the buildings dictated the number of people to be accommodated, and therefore the approximate size. Next, available land and the projected budget were considered. The result was the largest possible group of buildings that could be built on the given site for the designated amount of money, keeping in mind the specific religious and technical design requirements. Some factors, such as the south-facing orientation, were dictated by Buddhist canon and design tradition. Additionally, the buildings had to meet the various requirements for ceremonies, processions, and the like. These aspects all have traditional solutions and extant models.
Download


Copyright Disclaimer:
This site does not store any files on its server. We only index and link to content provided by other sites. Please contact the content providers to delete copyright contents if any and email us, we'll remove relevant links or contents immediately.