The Oxford Handbook of John Bunyan by Michael Davies & W. R. Owens
Author:Michael Davies & W. R. Owens , Date: June 2, 2020 ,Views: 55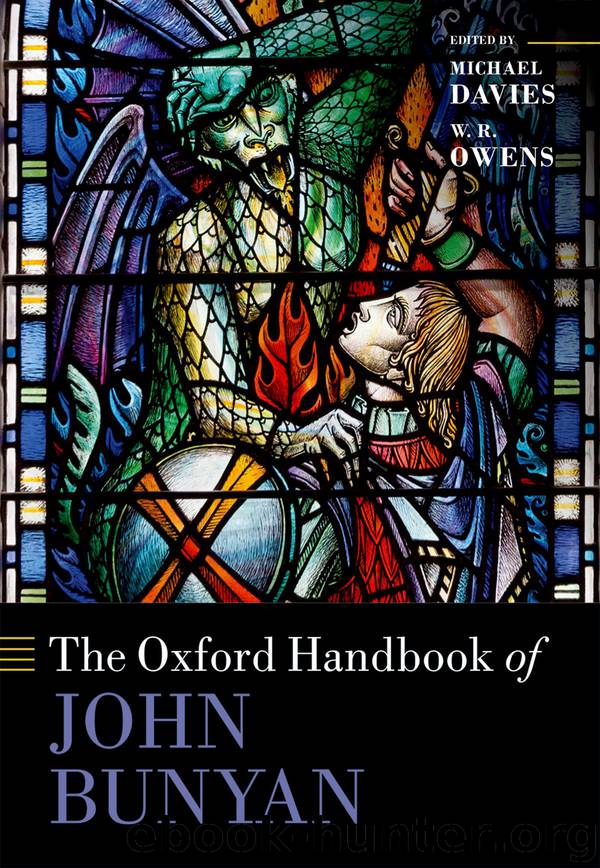 Author:Michael Davies & W. R. Owens
Language: eng
Format: epub
Publisher: Oxford University Press
Published: 2018-06-15T00:00:00+00:00



as the nimble Fly, that lightly springs,
Against the Flame, until she burn her wings;
Is taken Captive with that sulphurous flame,
With which she only sought to sport and game.
Here, the unsuspecting reader is the fly, the bright attractive powers of the flame the poetic form, and the heat of the fire the divine truth of the allegory.
Poetry, then, is everywhere apologized for, as a necessary evil: its practitioners are aware of its power, but wary of it at the same time. Rhetoric is seen as second-rate simply because it does not move the passions. As W. B. puts it: 'Rhetorick, and curious Art / Strive to affect the Fancy, not the Heart.'27 However, verse was admitted to be a legitimate tactic in didactic writing, especially for children. George Herbert's 'The Church-Porch' was often quoted by Baptists, including someone pretending to be Bunyan in the prefatory poem to a volume of 1700 entitled Scriptural Poems: 'A Verse may find him, whom a Sermon flies, / And turn Delight into a Sacrifice.'28 As we shall see, Bunyan himself, in a prefatory poem to A Book for Girls and Boys, displays a similarly ambivalent attitude to his choice of 'Homely Rhimes' for conveying religious truths. Instead of a 'fit audience' he claims a 'foolish' one, at which, for both egalitarian and scriptural reasons, he is aiming. He seems to be using poetry only out of necessity.
Download


Copyright Disclaimer:
This site does not store any files on its server. We only index and link to content provided by other sites. Please contact the content providers to delete copyright contents if any and email us, we'll remove relevant links or contents immediately.