The Lost Cyclist: The Epic Tale of an American Adventurer and His Mysterious Disappearance by David V. Herlihy
Author:David V. Herlihy [Herlihy, David V.] , Date: October 1, 2020 ,Views: 274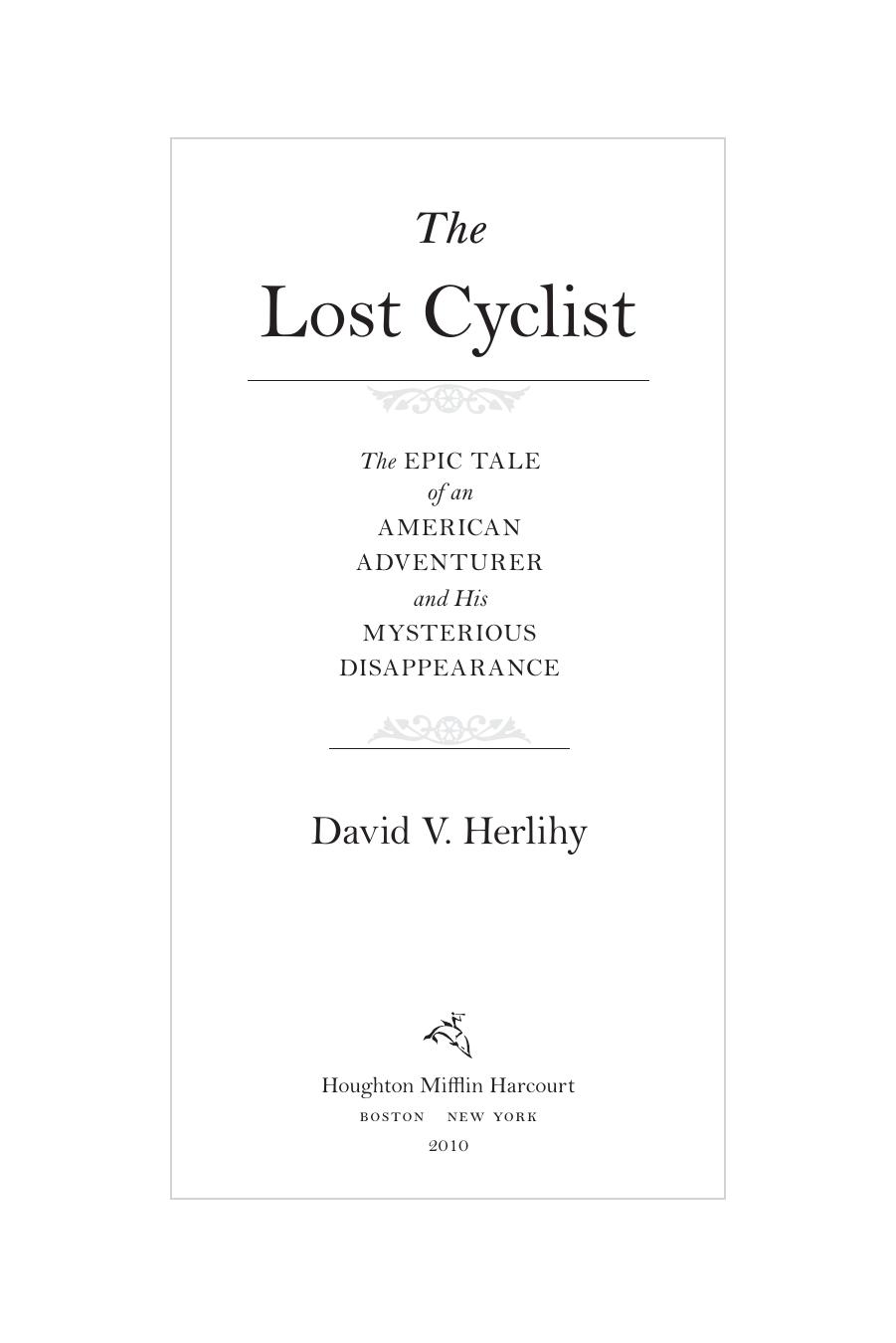 Author:David V. Herlihy [Herlihy, David V.]
Language: eng
Format: epub
Tags: Cycling, Adventurers & Explorers, Sports & Recreation, Sports, Historical, Biography & Autobiography, General
ISBN: 9780547521985
Google: XRUmcAAACAAJ
Amazon: B005OI0MVU
Barnesnoble: B005OI0MVU
Goodreads: 9866118
Publisher: Mariner Books
Published: 2011-05-04T06:00:00+00:00



II. The Search
10. EAST LIVERPOOL, OHIO
October 12, 1894
"FRANK LENZ IS LOST," blared the Evening News Review, stunning the residents of East Liverpool, Ohio, a prosperous pottery center on the banks of the Ohio River forty miles west of Pittsburgh. To the locals, the famous wheelman was the unassuming nephew of Mrs. Catherine Walper of Sixth Street. According to the paper, he had visited her frequently, "spending weeks at a time from boyhood days up." In fact, Mrs. Walper's son-in-law, John J. Purinton, a lawyer and a confidant of Lenz's distraught mother, was the source of the disturbing revelation. A few days earlier, the attorney had written the State Department to report Lenz's disappearance and to request an immediate investigation for the sake of Mrs. Lenz, "who already mourns her only son as lost to her forever."
To be sure, Anna had already feared for his life twice before. After word of Lenz's initial travails in China reached home, in early 1893, he fell terrifyingly silent. Letters sent to Calcutta, where he was expected that March, had been returned. By July, she was convinced that he had vanished in western China, until at last she received a letter from Frank announcing his arrival in Yunnan. Just a month earlier, in September 1894, Mrs. Lenz had suffered yet another scare when Frank fell silent once again after leaving Kurrachee. Happily, William Amory, Lenz's mute friend in Chicago, announced that Lenz had written him from Teheran on April 14, putting an end to the rumors that Lenz had perished in the scorching sand of Baluchistan.
This time, however, the situation seemed truly ominous. Explained the News Review: "Late last April, the young man wrote to his mother from Tabriz, Persia, stating that he would remain there a few days and then take the road for Erzeroum [sic], Turkey, which he expected to make in ten days. Since that time not a word has been heard of him. Week after week has passed and his friends have been growing more anxious." Compounding their worries were the sensational reports just reaching American newspapers of widespread massacres of Armenians in the very region where Lenz was bound.
Even under ideal circumstances, the three-hundred-mile stretch between Tabriz and Erzurum—filled with narrow mountainous passes and daunting rivers at their highest levels that time of year—was exceptionally dangerous. Worse, the inhabitants, especially the Kurds, were known to attack vulnerable travelers, often leaving them for dead. Worse still, much of the region on the Turkish side was sliding into a fiery chaos as Turks and Kurds mercilessly massacred Armenians in the wake of an ill-fated tax revolt begun in the town of Sassun. Conceivably, if Lenz had dawdled after Tabriz and bent his way southward after crossing into Turkey, he could have unwittingly drifted into the maelstrom.
What on earth had befallen the wayward wheelman? Some initially brushed off concerns, asserting that Lenz, as in the previous scares, was simply muddling through a tough stretch without access to modern communications, or perhaps keeping a low profile until the surrounding turmoil had passed.
Download


Copyright Disclaimer:
This site does not store any files on its server. We only index and link to content provided by other sites. Please contact the content providers to delete copyright contents if any and email us, we'll remove relevant links or contents immediately.