The Letters of Allen Ginsberg by Allen Ginsberg
Author:Allen Ginsberg , Date: May 26, 2016 ,Views: 556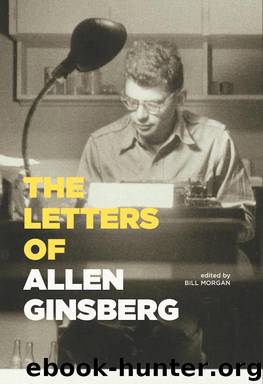 Author:Allen Ginsberg
Language: eng
Format: epub
Publisher: Da Capo Press
Published: 2016-05-06T16:00:00+00:00



Allen.
[Ginsberg extended his trip to South America month by month. He was determined to find a source for ayahuasca, the drug Burroughs had discovered in 1953 on his own South American travels.]
Allen Ginsberg [Huanuco, Peru] to Eugene Brooks [New York, NY] June 2, 1960
Dear Eugene:
Happy birthday, so today I am rapidly approaching your age and you're moving on too. I'm stuck for the day in a little town on the eastern slope of the Andes called Huanuco, waiting for a bus or truck to take me further down to the jungle and a town called Pucallpa on the Ucayali river, where I'll settle for a week or so. The roads are so crude that traffic moves only in one direction on alternate days, and I came here yesterday so have to wait a day for the next connection. I left Lima, where I stayed 3 weeks, a few days ago, crossing Andes by railroad and bus. This town is I guess typical of all I've seen in Peru and Bolivia —I have a hotel room that cost me 40¢, there are Chinese restaurants here (many Chinese in Peru) where I can eat huge meals (a plate of steamed trout with soy sauce, fried wonton, and diced chicken w/vegetables plus pot of tea) for 70¢. The town has one square with City Halls and bureaucracy buildings, a lot of streets of adobe houses for 10,000 people, and a big open air market where they sell everything from magic talisman bone deaths heads to weird tropical fruits. Also local Indian blankets. I tried to buy one for $2.00—huge white wool blanket with colored designs in it—but on inquiring found that the Peruvian postal system is so rudimentary I can't mail it outside the country. So can't carry it into tropics in knapsack, or, too much trouble to do so. I've been getting money all along from City Lights and various other small checks from magazines so still have $140 which is quite a lot here, in travelers checks. So far have been in Southern Chile—all the area now destroyed by earthquake from Concepción down to Isle of Chiloé—and Bolivia and all over Peru—mainly Cuzco and Machu Picchu where the Inca ruins are. All along the coast of Peru it's desert, filled with pre-Incan ruins and graveyards. One of the big illegal local industries is robbing graves for the funeral pottery buried with the dead —some 2,000 years old, others newer. I have a few pots I've bought for a buck each and will try to get government permission to bring them back. Good pottery is worth up to $2,000 in the states and cost $100 here or less if you buy directly from the grave robber. I have some painted bowls worth maybe $50.00 each, and some clay figurines—paid $2.00 for the lot. One could make good money smuggling them out. I get to take a few out legally since I'm an official literary guest of a government cultural institution—gave a reading here, and am having a small book of translations published in Lima soon.
Download


Copyright Disclaimer:
This site does not store any files on its server. We only index and link to content provided by other sites. Please contact the content providers to delete copyright contents if any and email us, we'll remove relevant links or contents immediately.