The Last Wish (The Witcher Book 1) by Andrzej Sapkowski
Author:Andrzej Sapkowski [Sapkowski, Andrzej] , Date: September 5, 2019 ,Views: 4227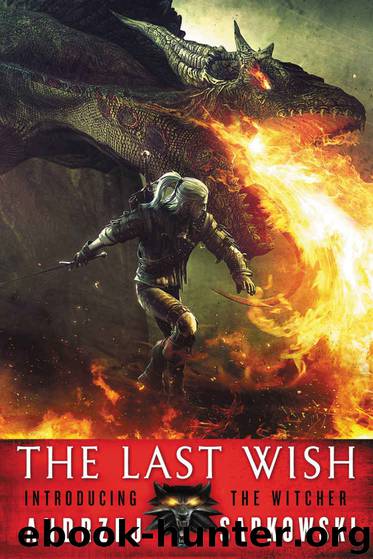 Author:Andrzej Sapkowski [Sapkowski, Andrzej]
Language: eng
Format: epub, azw3
Tags: FIC009000
Publisher: Orbit
Published: 2008-12-01T23:00:00+00:00



III
"…a curse," continued Duny, rubbing his temple. "Since birth. I never found a reason for it, or who did it to me. From midnight to dawn, an ordinary man, from dawn…you saw what. Akerspaark, my father, wanted to hide it. People are superstitious in Maecht; spells and curses in the royal family could prove fatal for the dynasty. One of my father's knights took me away from court and brought me up. The two of us wandered around the world—the knight errant and his squire, and later, when he died, I journeyed alone. I can't remember who told me that a child-surprise could free me from the curse. Not long after that, I met Roegner. The rest you know."
"The rest we know, or can guess." Calanthe nodded. "Especially that you didn't wait the fifteen years agreed upon with Roegner but turned my daughter's head before that. Pavetta! Since when?"
The princess lowered her head and raised a finger.
"There. You little sorceress. Right under my nose! Let me just find out who let him into the castle at night! Let me at the ladies-in-waiting you went gathering primroses with. Primroses, dammit! Well, what am I to do with you now?"
"Calanthe—" began Eist.
"Hold on, Tuirseach. I haven't finished yet. Duny, the matter's become very complicated. You've been with Pavetta for a year now, and what? And nothing. So you negotiated the oath from the wrong father. Destiny has made a fool of you. What irony, as Geralt of Rivia, present here, is wont to say."
"To hell with destiny, oaths and irony." Duny grimaced. "I love Pavetta and she loves me; that's all that counts. You can't stand in the way of our happiness."
"I can, Duny, I can, and how." Calanthe smiled one of her unfailing smiles. "You're lucky I don't want to. I have a certain debt toward you, Duny. I'd made up my mind…I ought to ask your forgiveness, but I hate doing that. So I'm giving you Pavetta and we'll be quits. Pavetta? You haven't changed your mind, have you?"
The princess shook her head eagerly.
"Thank you, your Majesty. Thank you." Duny smiled. "You're a wise and generous queen."
"Of course I am. And beautiful."
"And beautiful."
"You can both stay in Cintra if you wish. The people here are less superstitious than the inhabitants of Maecht and adjust to things quicker. Besides, even as Urcheon you were quite pleasant. But you can't count on having the throne just yet. I intend to reign a little longer beside the new king of Cintra. The noble Eist Tuirseach of Skellige has made me a very interesting proposition."
"Calanthe—"
"Yes, Eist, I accept. I've never before listened to a confession of love while lying on the floor amidst fragments of my own throne but…How did you put it, Duny? This is all that counts and I don't advise anyone to stand in the way of my happiness. And you, what are you staring at? I'm not as old as you think."
"Today's youth," muttered Mousesack. "The apple doesn't fall far—"
"What are you muttering, sorcerer?"
"Nothing, ma'am.
Download


Copyright Disclaimer:
This site does not store any files on its server. We only index and link to content provided by other sites. Please contact the content providers to delete copyright contents if any and email us, we'll remove relevant links or contents immediately.