The Ideal Team Player by Patrick M. Lencioni
Author:Patrick M. Lencioni , Date: May 12, 2018 ,Views: 1140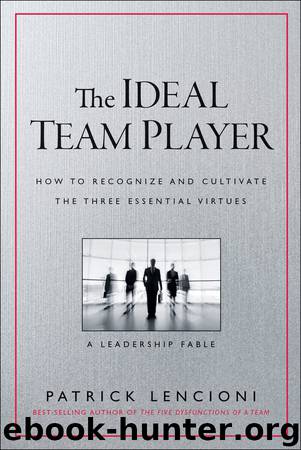 Author:Patrick M. Lencioni
Language: eng
Format: epub
ISBN: 9781119209591
Publisher: Wiley
Published: 2016-04-18T00:00:00+00:00



Points of Reference
Toward the end of the day, Jeff checked his texts and e-mail; Ted had yet to send him references. Clare stopped by, hoping to start the process.
"Nothing yet," he announced, to her disappointment.
Clare tried to be resourceful. "Well, I know a client of Ted's from a few years ago. I can try him. And maybe Kim's brother's sister's second cousin twice removed will give us something soon."
Jeff laughed. "I hate waiting, too."
Clare made a sudden decision. "Oh, what the hell. Let's just call the head of HR over at NBC. I've met her a few times. Ted's not working there anymore, so maybe she'll help us out."
She went right to the phone.
"So what we're after here is just humility?" she asked while scrolling through her contacts. "We're not going to cover anything else?"
Jeff shrugged. "I don't know. I mean, if we don't have doubts about his technical competence, I think we ought to focus on the one thing we're concerned about."
"I'm just so used to doing generic reference checks," Clare remarked just as she found the number. "It's going to be odd drilling down on one thing."
"Good," Jeff smiled. "We must be doing something right. After all, we want VB to be an odd company, in a good kind of way."
"What do you mean?"
"Well, people who don't fit should think we're a little strange, right?"
Clare winced. "Strange? I don't think it's strange to be humble and hungry and smart."
"Not for us. But if someone were socially clueless, they'd think we were silly for caring so much about being smart."
She began nodding her head.
"And if a person had a big ego, they'd think this was a strange place to work."
Now Clare seemed relieved. "I guess you're right. Strange in a good way."
"Absolutely. Let's find out if Ted Marchbanks is strange in a good way."
Clare hit the speakerphone and dialed the number, whispering to Jeff, "her name is Marie."
A woman answered after the first ring. "This is Marie."
"Marie, this is Clare Massick, the head of HR at Valley Builders, and I've got Jeff Shanley with me, our CEO. I don't know if you remember me, but we've met a few times."
"Sure I remember you," Marie said matter-of-factly. "What can I do for you guys?"
"Well, I was hoping you could tell us something about Ted Marchbanks. We've been talking to him about a job here, and we wanted to get a sense from you about whether you think he'd be a good fit for us."
Marie hesitated. "Well, Ted is very competent and professional."
"Great," Clare responded. "What about his attitude? Would you say he's open to feedback and willing to admit when he's wrong?"
The line was silent for a moment, until Marie finally responded. "Like I said, Ted is like most of the people here. He's professional, positive, and hardworking."
Clare frowned at Jeff, as if to say that's a lame answer.
Jeff followed up. "Can you tell us why Ted left NBC?"
Marie answered immediately. "No, I'm afraid I can't. That's against our policy.
Download


Copyright Disclaimer:
This site does not store any files on its server. We only index and link to content provided by other sites. Please contact the content providers to delete copyright contents if any and email us, we'll remove relevant links or contents immediately.