96 Great Interview Questions to Ask Before You Hire by Paul Falcone
Author:Paul Falcone , Date: June 1, 2018 ,Views: 1028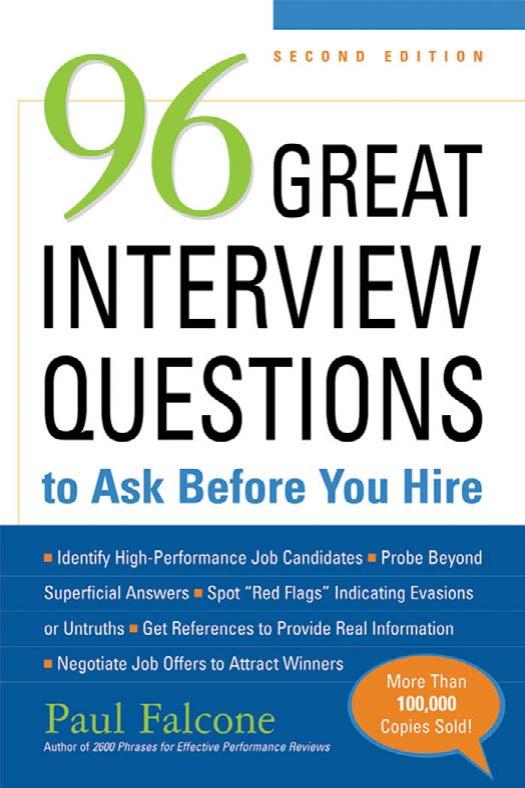 Author:Paul Falcone
Language: eng
Format: epub
Publisher: AMACOM
Published: 2018-06-01T04:00:00+00:00



Analyzing the Response
When posing questions about organizational transformations and value creation, look first to see how the candidate approaches the topic. Happy stories about creative ways of scaling up to meet staffing needs are very different than examples where large-scale layoffs had to take place. Mergers and integrations don't always start smoothly, but some executives excel at bonding normally conflicting groups and developing creative ways of aligning new teams by spiking their communication and team-building efforts to establish a greater sense of trust and support within the group. What aspect of the picture does the candidate choose to share? Do you get a sense of bold leadership or victimization?
In all cases, focus on the people impact of their actions. Does the individual know her employees? Does she pride herself on remaining available, accessible, and responsive? Does she discuss the importance of sharing negative news in a constructive manner and recognizing and rewarding employees who are enduring significant change—even with some who know it may ultimately result in their own job loss? Does she believe in change leadership (rather than change management) to spearhead company efforts at arriving at change with as much buy-in and support from the front line as possible? If talent is any organization's primary profit lever and most critical asset in a knowledge-based economy, does this candidate focus her response on the impact of those organizational challenges on the people she led who were impacted most?
Today more than at any time in recent memory, candidates will likely respond in terms of operational changes that needed to be made and that negatively impacted workers. As a result, this question can open a window into the individual's emotional intelligence: her awareness of her own and other's emotions, her selflessness and natural level of empathy, her ability to handle interpersonal relationships during stressful times, and other intangibles that point to how people lead through change. The response to this question can come in many shapes and sizes, but one thing is for sure: Lasting value often comes from how leaders touch others' lives, so steer the response toward the people impact in addition to the operational and financial results that were involved.
How to Get More Mileage out of the Question. In fact, depending on the feedback you get from the example shared, you might further ask:
"How would you predict the company will be different in two years, and how do you see yourself shaping that change?"
"A lot of what you're describing speaks to a leader's emotional intelligence. How would you generally describe and then grade yourself in terms of your emotional intelligence?"
"How did you share your vision with the rank and file, and how did you intend to stay connected with those working in the trenches at the time?"
A candidate's involvement in large-scale change initiatives and transformations is a critical aspect of how they identify and define themselves. Consider making this question a staple in your senior management selection criteria.
Download


Copyright Disclaimer:
This site does not store any files on its server. We only index and link to content provided by other sites. Please contact the content providers to delete copyright contents if any and email us, we'll remove relevant links or contents immediately.