42 Rules of Employee Engagement by Susan Stamm
Author:Susan Stamm , Date: April 9, 2018 ,Views: 1090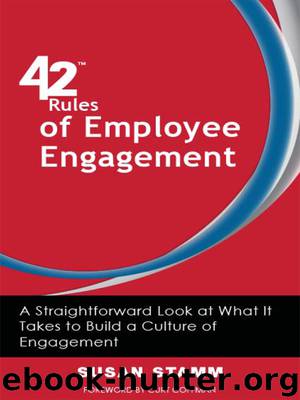 Author:Susan Stamm
Language: eng
Format: epub
Publisher: Happy About



Rule 25
Get Out of the Shower
I wondered what fears might be locking me into the "shower stalls" of my life.
One morning I got a bit more than expected as I took my shower. Looking down at the shower floor for the first time, I spied an enormous thousand-legger29 trying to climb out of the shower. I knew "he" would never make it up the slippery fiberglass to his escape, but it was my escape that I was most worried about.
After letting out a high-pitched scream, I held onto the back wall of the shower as I tried to think through the situation. I knew that this creature was just as terrified as I was, especially after hearing my scream. Eventually my husband, who was out on the back patio enjoying coffee and the Sunday newspaper, would come up for his shower. I could surely stay alive until he arrived, couldn't I?
After a few minutes more of breathing and calming myself and not having any success at willing my husband to the bathroom, I decided to turn the water off. Immediately the thousand-legger moved a little, so I turned the water back on ignoring my concerns about water conservation in the middle of a draught. So there we stood, the creature and I, frozen in our collective states of panic both wondering, I am sure, how we would escape the situation.
As the minutes ticked by, I made the decision to make my exit. It took another few minutes to talk myself into it and then I leapt out, leaving the creature safely behind me in the slippery stall that he couldn't escape. It was amazing how easy it was to climb out of that shower! As I watched my husband capture the thousand-legger and carry him outside, I began to process the event and the paralyzing effect fears can have on our lives. I wondered what fears might be locking me into other "shower stalls" of my life and how, like this incident, they may actually be much easier to leap over than I have allowed myself to believe.
I began to think how managers miss opportunities to build engaged teams because they pull back out of fear. I remembered a manager I was coaching who described the terrible fear she had of having performance discussions with an employee because she was afraid the employee would dislike her and she would not know how to approach the conversation. Meanwhile, she became more distanced from this employee and developed anger toward her, because the employee was not meeting the "yet-to-be-discussed" performance expectations. In another case, a leader needed support to get his team through a terrible conflict that would have been much less severe had he not hidden from the situation for months because of his fear of getting involved in an emotionally charged situation.
I then recalled how terrified of standing in front of a group to present or facilitate I'd been when I first entered this profession. It gave me hope to reflect on fears I had overcome, realizing other fears could be conquered as well.
Download


Copyright Disclaimer:
This site does not store any files on its server. We only index and link to content provided by other sites. Please contact the content providers to delete copyright contents if any and email us, we'll remove relevant links or contents immediately.