Average Is Over by Tyler Cowen
Author:Tyler Cowen [Cowen, Tyler] , Date: March 26, 2014 ,Views: 1400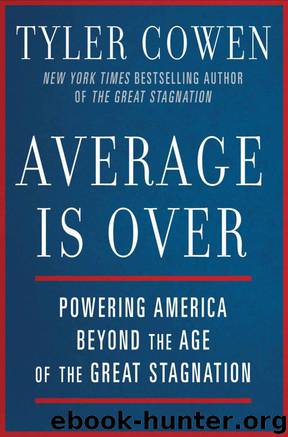 Author:Tyler Cowen [Cowen, Tyler]
Language: eng
Format: epub
Tags: Non-Fiction, Politics
ISBN: 9780525953739
Google: CLDgDxHNu1oC
Barnesnoble:
Goodreads: 17674998
Publisher: Penguin
Published: 2013-09-12T07:00:00+00:00



The Machine's Place
Not many people, from their standpoint as observers or as consumers of culture, want man and machine to converge. It seems that even when the machines are a lot better than the human competitors, we're not so interested in watching them.
For instance, when it comes to chess we humans don't seem to care when the machines play each other. Hardly anyone is watching or talking about the computer vs. computer games. The online commentary is a trickle, most chess websites—even those for chess specialists—don't bother to reproduce the games, and I never see them reported in the popular press. The particular computer game of Stockfish vs. Spark, discussed in an earlier chapter, was staged by a Norwegian chess enthusiast named Martin Thoresen. Martin ran web tournaments that paired the world's best chess-playing computers against each other, concluding with an "elite" tournament that paired off the previous winners. Martin wanted to find sponsors to help him cover the electricity bills but no one was interested, and in the spring of 2011 Martin stopped running his tournaments. Hardly anyone noticed. A few people protested in the comments section of his blog, such as the one fellow who expressed the superiority of chess over time spent with women. (As of early 2013 some version of these matches seems to be restarting; we'll see.)
One of Martin's last tournaments went under the glamorous name of TCEC S3 Stage 2a.
At the same time as TCEC S3 Stage 2a was being run, the so-called Candidates Matches, among human beings, were being played in London. Those matches determined who played Vishy Anand for the world (human) chess championship. Interest in those qualifying matches was slack—by usual terms—because fan favorite Magnus Carlsen, the Norwegian chess prodigy, decided not to play. That's a bit like when Michael Jordan took a few years off from basketball and interest in the NBA Finals fell. Still, unlike with the higher-quality computer matches, many thousands of people followed the human contests and watched Boris Gelfand emerge as the challenger to Anand and eventually lose the championship match.
Despite the humans on the teams, even Freestyle chess isn't very popular, not even by the standards of the chess world. Some chess traditionalists are uncomfortable with the fact that some top Freestyle team members aren't very good at traditional chess, but I don't think that is the main problem. The anonymity and shifting names of the teams make it harder for fans to follow the contests and identify with favorites. It is more difficult to construct narratives about the players, their career arcs, and their personalities and emotional struggles. It doesn't fit the standard model of heroic achievement and struggle against adversity.
Limited spectator interest has meant that Freestyle tournaments have been online only, which makes it harder to attract spectators and corporate sponsorship. There is one wealthy patron operating from United Arab Emirates, but so far Freestyle chess does not seem to have a financial future. Nelson Hernandez estimates that during the key Freestyle events
Download


Copyright Disclaimer:
This site does not store any files on its server. We only index and link to content provided by other sites. Please contact the content providers to delete copyright contents if any and email us, we'll remove relevant links or contents immediately.