The Hidden Writer by Alexandra Johnson
Author:Alexandra Johnson [Johnson, Alexandra] , Date: July 11, 2020 ,Views: 267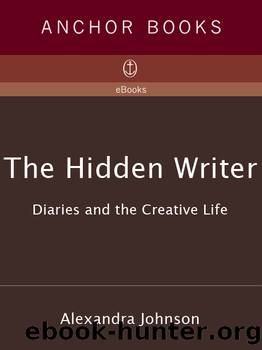 Author:Alexandra Johnson [Johnson, Alexandra]
Language: eng
Format: epub
ISBN: 978-0-307-75598-8
Publisher: Knopf Doubleday Publishing Group
Published: 2012-01-03T16:00:00+00:00



"Our press arrived on Tuesday," Virginia Woolf wrote her sister at the end of April 1917. "I can see that real printing will devour one's entire life. I am going to see Katherine Mansfield, to get a story from her." It would be the first of several visits to Mansfield's Chelsea studio. Over the seasons, she'd see the studio's work table crowned with various arrangements—in summer, saucers of dark ripe figs from the garden; in autumn, fresh quinces or vases of Michaelmas daisies. On that first visit, though, Virginia Woolf had come to talk work. The Hogarth Press, initially conceived by Leonard Woolf as a hobby for Virginia, a soothing activity after hours of writing, almost immediately became a serious business venture. The Woolfs were interested in publishing unknown but talented writers, in building a reputation as an innovative modernist press. By summer Katherine had submitted "Prelude," a story whose title fittingly signaled the start of the prickly professional friendship between the two women. The obstacle race to become known writers quickened with that first visit to Mansfield's studio, its yellow curtains lifting in the breeze as if beckoning each writer: Hurry.
Virginia Woolf, in a sense, had also invented herself in a series of solitary rooms. Born in 1882 into a "literate, letter writing, visiting" family and cultural world, she too had rebelled against the suffocating social constraints she'd inherited. The third child of a second marriage, she'd been fortunate in having parents suspicious of the solemn pieties of late-Victorian life. Her philosopher father, Leslie Stephen, was a scrappy, freethinking agnostic; her mother, Julia, a tireless social activist. Competition was stiff amid the boisterous clan of eight siblings, all clamoring for attention from a mother zealously driven by social ministry and from a father shrouded in scholarly solitude. "As a child," Virginia wrote nearly forty years later, "my days … contained a large proportion of this cotton wool, this non-being." The nursery, the library, the top-floor bedroom, quickly became her private sanctuaries. In the quiet corners of the Hyde Park Gate house, she converted its voluminous privacy into hours of scribbling, imitating her father and his industrious circle of famous friends who crowded the drawing room at teatime.
By age five she was inventing a story every evening for her father. By nine she was producing the family newspaper. By fourteen she'd begun her first diary, hiding it from prying eyes in the covers of her father's logic treatise. The question of sibling competition had solved itself early on. Virginia would be a writer; her older sister Vanessa, a painter. With their brothers sent off to school and university, the two sisters with identical initials "formed together a very close conspiracy," working side by side on the top floor at Hyde Park Gate.
But the free-spirited childhood quickly halted after their mother's sudden death in 1895. From thirteen to twenty-two, Virginia, along with Vanessa and their half-sister, Stella, devolved to the dutiful role of caretaker, consoling their widowed father, whose sullen, grief-soaked tirades terrorized the sisters.
Download


Copyright Disclaimer:
This site does not store any files on its server. We only index and link to content provided by other sites. Please contact the content providers to delete copyright contents if any and email us, we'll remove relevant links or contents immediately.