The Fixed Trilogy: Fixed on You, Found in You, Forever With You by Laurelin Paige
Author:Laurelin Paige [Paige, Laurelin] , Date: March 29, 2014 ,Views: 2324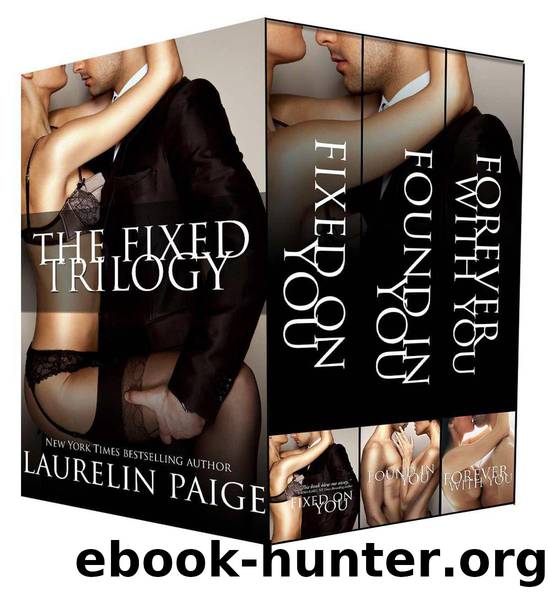 Author:Laurelin Paige [Paige, Laurelin]
Language: eng
Format: epub, mobi
Tags: Contemporary, Romance, New Adult, Adult, Contemporary Romance
Amazon: B00IX9UTLU
Goodreads: 21420473
Publisher: Laurelin Paige
Published: 2014-03-10T05:00:00+00:00



Chapter Sixteen
Hudson pocketed his damp handkerchief, and I could feel his disposition change, could feel him moving away. "Now, Alayna. What else do you need to tell me?"
"What—what do you mean?" I was still recovering from the last horrific confession. What other information did I need to disclose? At this point, I was ready to spill everything.
Hudson took his jacket off, folding it and setting it on the back of the sofa. "When we started this conversation, you thought I was talking about something else. Someone else." His eyes pierced me. "Who did you think I was talking about?"
Honesty. I owed him honesty. "I thought you were talking about David."
"David Lindt?"
"Yes."
He backed up until he was leaning against the wall. I hated that he needed the support. "You told me there was nothing between you and David."
"There's not. Anymore."
"But there was."
"Yes."
I could see the pain across his face. It killed me. It was exactly how I'd feel if I found out there had been something with him and Celia. I wanted to go to him, to hold him like he'd held me, to make it better.
I stepped toward him, but he put a hand out to stop me.
"It was nothing, Hudson. We were sort of together. But not really. We didn't go on dates or anything or tell anyone about us. Just, when we worked late, alone…things happened." The words tasted awful in my mouth.
"Did you sleep with him?"
"No. Things never went that far." This hadn't been the first time the subject had been broached. "You've asked me this before and I told you no then as well. I wasn't lying."
He shot me a challenging glance. "I also asked if you had wanted to and I never got a straight answer."
"I don't know the answer." I considered leaving it at that. But I knew it would always hang over us unless I let it all out. "Yes. I suppose I did. Once upon a time. But not now." Again, I wanted to move toward him. This time I stopped myself before he did. "There's nothing now, Hudson. You have to believe me."
It was after several long seconds that he spoke. "I do."
"You do?" I couldn't hide the shock from my voice.
"Yes. You don't look at him the way you look at me."
"Of course, I don't."
"But he looks at you the way I look at you. The way I imagine I look at you."
"No, he doesn't." Yes, David had feelings for me, but they didn't compare to the way Hudson felt about me. "You're exaggerating."
Hudson straightened and began pacing. "I'm not. It's a problem and I can't have it continuing."
"What does that mean?" I knew the answer without having to ask, the dread washing over me in a thick wave.
"It means he's going to have to leave The Sky Launch."
"Don't even joke." As if Hudson was the type to kid.
"Does it seem like I'm joking?"
"Hudson, no. You can't do that." My voice was louder than I would have liked it. I'd prefer to be stoic and cold like him, but that wasn't me.
Download


Copyright Disclaimer:
This site does not store any files on its server. We only index and link to content provided by other sites. Please contact the content providers to delete copyright contents if any and email us, we'll remove relevant links or contents immediately.