The Family Law by Benjamin Law
Author:Benjamin Law , Date: October 15, 2017 ,Views: 976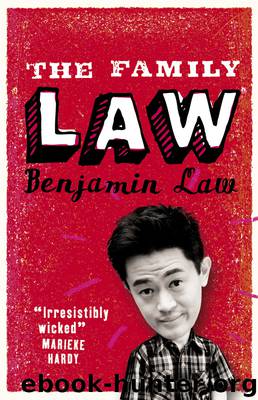 Author:Benjamin Law
Language: eng
Format: epub
Tags: ebook, book
ISBN: 9781921870354
Publisher: Black Inc.
Published: 2012-11-11T05:00:00+00:00



*
We were adults when we visited Malaysia for the first time. Tammy, a photographer, had spent the past nine months trekking and working throughout South-East Asia, and was ready to come home. Mum, Michelle and I told her we'd rendezvous with her, and we planned to travel as a foursome, seeing for the first time where Mum had grown up. It had been a long time coming.
Mum picked up the phone and called Aunty Clara, who didn't even need to think about housing us: she immediately said yes, prompting an endless stream of thank-yous and are-you-sures from my mother. 'Mm-sae gum haak-hae,' Aunty Clara scolded my mother over the phone. There's no need to be so polite.
When we arrived, a fresh-faced and smiling Uncle Wayne and Aunty Clara received us at the arrivals lounge. 'Hello!' they said. 'Yes, yes: it's us!' Aunty Clara had a narrow, bespectacled face and wore her hair in a neat Cleopatra bob. Uncle Wayne never stopped grinning: with his white moustache, he resembled a happy cartoon field-mouse. They were one of those couples who seem immediately familiar, and they spoke fluent English interspersed with bursts of Cantonese, just like us. Mum ran into Aunty Clara's arms and began to cry.
'You're not going to cry!' Aunty Clara said, laughing and squeezing Mum. Turning to Michelle and me, she said, 'Your mother has always cried so easily! Even when we were children!'
It wasn't every day I encountered someone who even knew my mother, let alone someone who remembered details about her that I didn't. Surely that constituted a friend, I thought, and I felt happy for them.
We stayed in Kuala Lumpur for a couple of days, making sure we saw the capital before the half-day drive to Ipoh. Up on the observation deck of KL Towers, I realised I'd forgotten to wear my contact lenses or glasses, so the night-time skyline was an exquisite, shiny blur.
Download


Copyright Disclaimer:
This site does not store any files on its server. We only index and link to content provided by other sites. Please contact the content providers to delete copyright contents if any and email us, we'll remove relevant links or contents immediately.