the Boxer and the Spy (2008) by Parker Robert B
Author:Parker, Robert B [B, Parker, Robert] , Date: May 1, 2021 ,Views: 90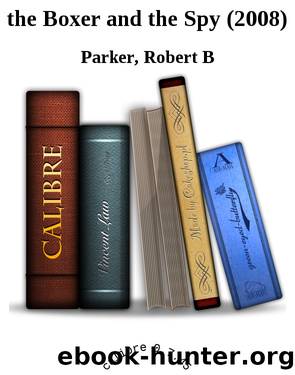 Author:Parker, Robert B [B, Parker, Robert]
Language: eng
Format: epub
Published: 2011-03-15T17:30:26.203000+00:00



Chapter 26
Today we going to do some fists of fury, George told Terry. We going to move round the heavy bag to the left and we going to keep hitting it as fast as we can.... Left-right combo, bang, bang.
George hit the bag left-right. The second punch was almost synonymous with the first. Like that, George said. Bang, bang.
Terry started.
Punch quicker, George said. The right should land a half second after the left. Terry punched left-right, left-right.
Better, George said.
Terry kept punching.
Feel it? George said. There's a rhythm to it.
Bang, bang, Terry said.
Keep your feet under you, George said. Keep them spaced, push off the floor.
Terry moved left as he pounded the bag. He could feel the sweat begin to gather along his
arms and shoulders. George was right, once he began to feel the stuttered rhythm of the
punches, they came faster. It wasn't so much bang, bang as ba-bang, ba-bang. Okay, now move round the bag to the right, same deal. Bang, bang.
Terry was breathing hard.
Easy for you, he gasped.
The change in direction had messed up his rhythm, and it took him a couple of circuits of the bag to get it back. Then he made one full circle of the bag in good ba-bang.
Okay, George said. Round one, take a seat.
Terry sat on the folding chair in the corner, his chest heaving, his arms and shoulders glistening with sweat. The sweat beaded on his face. George toweled him off and squirted a little water into Terry's mouth.
Don't want to dehydrate, George said. You get dehydrated and it take the zip right out of you.
Terry nodded.
Funny, just changing directions got me screwed up on the fists of fury thing, he said. Why you have to do it so much, George said. Get your muscles grooved into it. And nobody's even trying to hit me, Terry said.
Time for that will come, George said. Now we just getting grooved in.
But ... I mean in a real fight some guy comes at you throwing them as fast as he can.... Don't you kind of feel like wait a minute, wait a minute?
Couple answers to that, George said. One, that happen whether you know how to box or not, so you may as well know. Second thing is you get enough training you can maybe weather that first couple minutes until the guy runs out of steam.
Terry nodded.
Yeah, yeah, he said. I know. Backpedal. Keep him off with your jab. Cover up.
And maybe move around him a little, try not to get cornered, George said. He gonna be
pretty tired after a minute or two. 'Less you fighting Smokin' Joe Frazier, your man can't keep
throwing them like you talkin' about for very long.
You ever just wanted to run?
George shrugged.
Boxing be mostly about training, he said. Remember what I tol' you about the three thousand punches. Time you get in the ring, you might be scared, but you trained so much, you sort of can't think 'bout running.
But what if you do run?
Then you need to do another business, George said.
Download


Copyright Disclaimer:
This site does not store any files on its server. We only index and link to content provided by other sites. Please contact the content providers to delete copyright contents if any and email us, we'll remove relevant links or contents immediately.