Mr. Lemoncello and the Titanium Ticket by Chris Grabenstein
Author:Chris Grabenstein [Grabenstein, Chris] , Date: April 7, 2021 ,Views: 189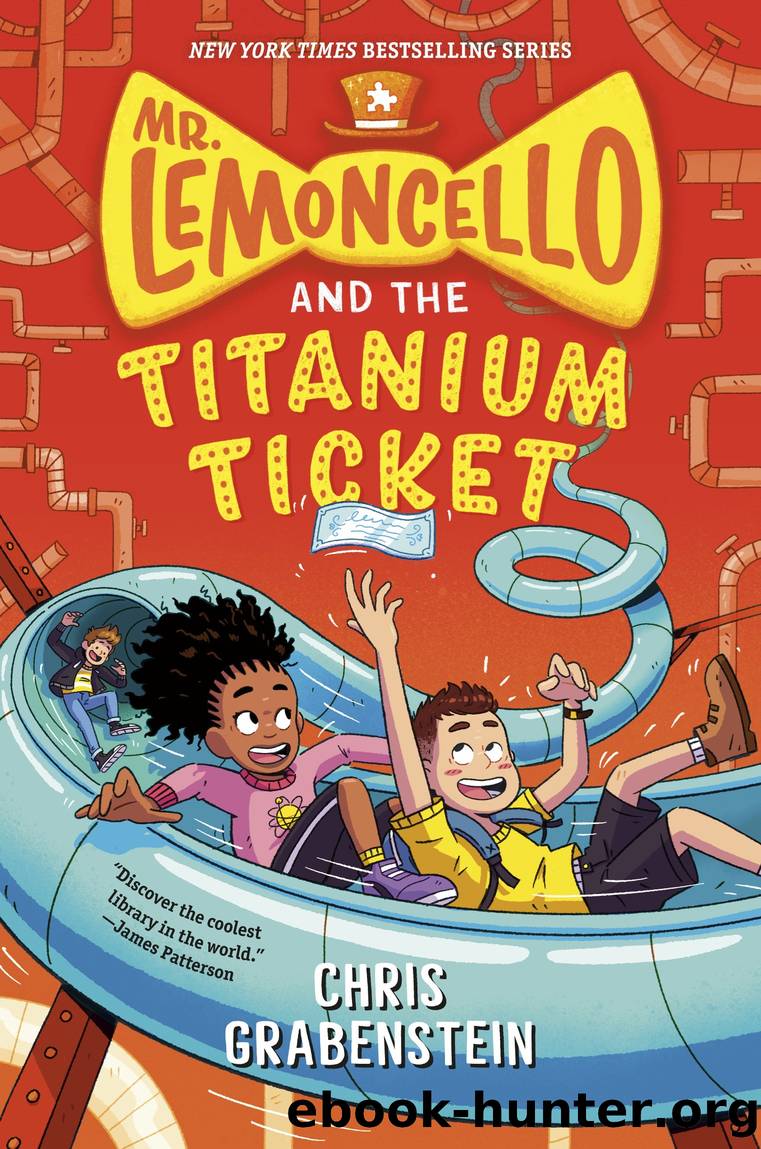 Author:Chris Grabenstein [Grabenstein, Chris]
Language: eng
Format: epub
Publisher: Random House Children's Books
Published: 2020-08-25T00:00:00+00:00



Defeated, Simon slid down the side of the chocolate mountain.
A volunteer guided him to the outdoor shower tent, where he was able to hose off all the goop and glop he'd been slimed with during his failed attempt to win the game. He then passed under a car-wash-sized hot-air blower to dry his hair and face in a flash.
His own clothes had remained clean under the high-tech waterproof coveralls.
"Would you like a souvenir T-shirt?" asked a volunteer.
"No thanks," he mumbled.
He slumped his shoulders and shuffled out of the tent.
"Simon?" Soraiya called to him. "Are you okay?"
"Yeah," Simon told her. "But you know that thing you say about the future belonging to the puzzle solvers? You're wrong. The future belongs to cheaters like Jack McClintock. Always has, always will."
"What'd Jack do?"
"Nothing."
"You want to register a complaint with Mrs. Blatt?"
"No, Soraiya. I want to go home."
He worked his way through the wall of spectators lining Fourth Street and sidled through the mob behind them on the next block of Main Street.
It felt like everybody in Hudson Hills was laughing at him.
Probably because they were.
Everybody except Soraiya. She was looking at Simon with pity in her eyes. That was almost worse than all the pointing and laughing.
As he walked up Main Street, moving farther and farther from the festivities, Simon could still hear the loudspeakers making announcements back at the sidewalk board game.
"Well, folks, there you have it," a booming voice (it sounded like Mr. Mitchell) declared. "We have our four winners! They will be the first to see what's inside the supersecret new building behind the factory. That'll happen today at six p.m. when they will play an exciting new game to win a titanium ticket, which could be their ticket to an out-of-this-world, unbelievable, and yet-to-be-announced prize!"
Simon glanced at his watch (they'd let him keep it). There were still three hours before the game in the supersecret new building.
The one Simon wouldn't be playing.
"All right," Mr. Mitchell's amplified voice continued. "Here are the teams going on to today's final game."
Simon sat down on a park bench to listen. The block between Eighth and Ninth Streets was pretty much deserted. There was no one there to laugh at him.
"First up," Mr. Mitchell's voice echoed in the distance, "Carolyn Hudson! You'll be playing with the star of Kidzapalooza's Hey, Hey, Haley, the one, the only, the Grammy Award–winning Haley Daley!"
The crowd roared. From four blocks north, it sounded like a dragon waking up from a long winter nap.
"Jack McClintock?" Mr. Mitchell continued. "You'll be heading into the next game with Andrew Peckleman. Piya Sarkarati? You'll be playing alongside Akimi Hughes. And, Soraiya Mitchell? Don't worry, we didn't forget you. Your partner will be the legendary gamester himself, Kyle Keeley!"
There was another excited roar from the crowd at the outdoor board game.
Simon was happy for Soraiya. She deserved to team up with Kyle Keeley, the top gamer from Ohio.
Simon wasn't sure what he would do next. Go home and build something? Maybe play with his glockenspiel? Or, he could go eat one of those BLT ice cream sandwiches….
Download


Copyright Disclaimer:
This site does not store any files on its server. We only index and link to content provided by other sites. Please contact the content providers to delete copyright contents if any and email us, we'll remove relevant links or contents immediately.