Tell It to the World by Stan Grant
Author:Stan Grant , Date: March 13, 2020 ,Views: 255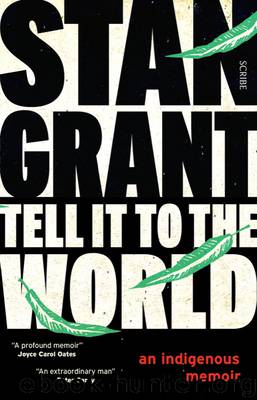 Author:Stan Grant
Language: eng
Format: epub
Tags: BIO026000, SOC031000, SOC062000, BIO002000, HIS054000, HIS004000
Publisher: Scribe Publications Pty Ltd
Published: 2019-08-26T16:00:00+00:00



PART FIVE
My family is like so many other Aboriginal families. What has happened to us has happened to all. We have felt the brutality of Australia. We have had our land – our inheritance – stolen. Our language was banned. Our children have been taken away. We have been herded onto missions. We have been forced onto the margins of society. We have lived in tin humpies and tents. We have been powerless before the state. Welfare officers and police have invaded our lives at will. We have been told to become like white people, yet when white people loved us and had children with us they too were punished.
It would be so easy to surrender to this oppression. The weight of history in Australia suffocates us. I have said it before but it demands repeating – our history leaves its mark on our bodies and our souls. I have seen people crushed by whiteness. I have seen people deny who they are – lie to their own children – to escape the fate of blackness. They prefer to disappear into a world that has never wanted them anyway.
It is so easy to walk through this country and be blind to it all. I am still surprised – although by now I should not be – at how often people tell me they just didn't know. Yet it is there right in front of us. The reminders are everywhere. It is written into our landscape. It is there at Waterloo Creek known also as Slaughterhouse Creek where perhaps as many as 100 people were killed. It is there at Myall Creek where twenty-eight people died. It is there at Poison Waterholes Creek and Murdering Island. There is the Rufus River Massacre, the Evans Head Massacre and the Nyngan Massacre.
Why do we not know what happened at Murdering Gully or the Campaspe Plains or Halls Creek or Fitzroy Crossing or Margaret River? Rivers, mountains, ranges, plains and deserts have become graveyards for my people. Australians pass by these places oblivious to what has happened in their own country. They are oblivious to us as well. We live alongside them. We have worked with them and for them. We have fought in wars we were told would make us free.
The Australian anthropologist W.E.H. Stanner, writing in the 1960s, spoke of a great history of indifference. Stanner had spent decades living alongside Aboriginal people. He studied our societies and recorded our histories. He sought to place the suffering he saw all around him with the timeline of Australia's progress.
Stanner's Boyer Lectures are still considered a high watermark in our efforts to grapple with the impact of colonisation on my people. He spoke of our powerlessness, our homelessness, our dependence and poverty. These things, he said, produce a syndrome of inertia, non-responsiveness and withdrawal. He saw an emerging great reckoning of this Australian silence. His words ring as true today as they did then:
What may have begun as a simple forgetting
of other people's views
Download


Copyright Disclaimer:
This site does not store any files on its server. We only index and link to content provided by other sites. Please contact the content providers to delete copyright contents if any and email us, we'll remove relevant links or contents immediately.