Sword & Salve by Peter J. Hoffman & Thomas G. Weiss
Author:Peter J. Hoffman & Thomas G. Weiss , Date: March 26, 2020 ,Views: 37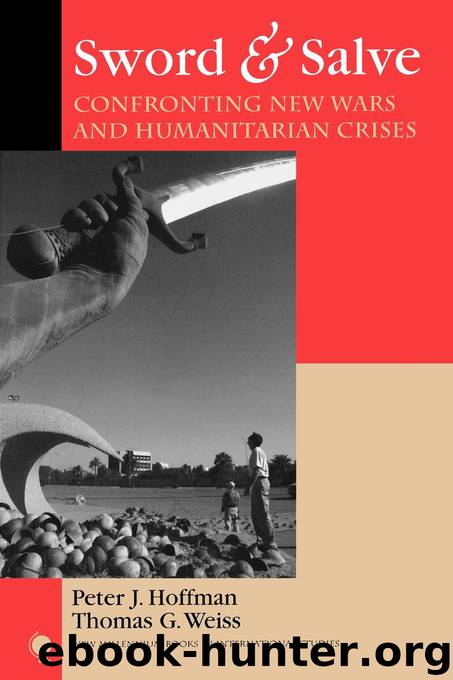 Author:Peter J. Hoffman & Thomas G. Weiss
Language: eng
Format: epub
Publisher: Rowman & Littlefield
Published: 2006-03-14T16:00:00+00:00



DIVERGENT PERCEPTIONS OF NEEDS,
PRIORITIES, AND SEQUENCES
The first monkey wrench thrown into the collective humanitarian works results from agencies' assessing and addressing different requirements of war-torn populations and societies. When violent conflict erupts and visible streams of victims seek to satisfy their most basic needs, it is clear that humanitarian action should initially emphasize the delivery of food, water, and medicine as an urgent first step toward recovery. However, this sequence and these priorities presume clarity in the start and finish of hostilities and aid programming. They miss the reality that war can ebb and flow, much as responses do. Accordingly, one agency may stress food to sustain populations, while another may already be stabilizing food production and grain markets and reviving development efforts.
Table 5.1 depicts the diversity of actions that have come to fall under the rubric of "humanitarian," to illustrate the temporal and substantive dimensions of the complete humanitarian agenda in war zones. All directly or indirectly improve human welfare in the short or long term. While the elements may dovetail, their doing so is unlikely.
Problems begin with trying to ensure proper sequencing and priorities. Long-term indigenous capacity building or elections always sound sensible but often ring hollow and are close to impossible in the throes of war. Moreover, the new wars present a confusing array of stages of conflict because their impacts are sporadic and nonlinear across time and space in war-torn societies, leaving new humanitarianisms to address a variety of requirements without a clear template.
For instance, if an agency moves toward investing in the long term, it is not "defecting" from improving human welfare in the immediate future. Nonetheless, by rendering such assistance, it may inadvertently create opportunities for actors seeking to manipulate aid in the short run and continue war. The injection of aid when other components of the international humanitarian system are trying to stem destabilizing resource flows and improve local accountability can backfire on all projects.
Table 5.1. The Length and Width of the Humanitarian Agenda
Download


Copyright Disclaimer:
This site does not store any files on its server. We only index and link to content provided by other sites. Please contact the content providers to delete copyright contents if any and email us, we'll remove relevant links or contents immediately.