Storm From the Shadows by David Weber & Eric Flint
Author:David Weber & Eric Flint [Weber, David & Flint, Eric] , Date: April 9, 2021 ,Views: 20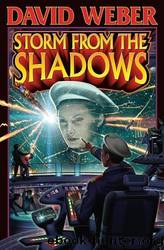 Author:David Weber & Eric Flint [Weber, David & Flint, Eric]
Language: eng
Format: epub
Tags: Science Fiction, Adventure, War
ISBN: 9781416591474
Google: LtyvNwAACAAJ
Amazon: 1439133549
Goodreads: 3667676
Publisher: Baen
Published: 2009-01-01T00:00:00+00:00



Chapter Twenty-Nine
HMS Hexapuma and HMS Warlock emerged from the central terminus of the Manticoran Wormhole Junction exactly one T-year from the day Midshipwoman Helen Zilwicki, Midshipman Aikawa Kagiyama, and Midshipwoman Ragnhild Pavletic had reported aboard her. Now Ensign Zilwicki tried to wrap her mind around how truly monumental the events of that year had been as she sat beside Lieutenant Senior Grade Abigail Hearns at Tactical. Abigail was undoubtedly too junior for permanent duty as a Saganami-C-class heavy cruiser's tactical officer, but Captain Terekhov had flatly refused to allow anyone to replace her before Hexapuma 's return to Manticore. Helen was glad. And she was glad some other people were still aboard, as well. She glanced over her shoulder and hid a broad mental smile as her eye met Paulo's. Ansten FitzGerald was still in obvious pain and more than a little shaky. That wasn't especially amusing to anyone who knew and respected the exec, but watching Aikawa Kagiyama hovering in the background while he kept an anxious eye on FitzGerald certainly was.
"Message from Invictus , Sir," Lieutenant Commander Nagchaudhuri announced from Communications.
"Yes?" Terekhov turned his command chair to face Nagchaudhuri. HMS Invictus was the flagship of Home Fleet, no doubt in orbit about the planet of Manticore.
"Message begins," Nagchaudhuri began, and something in his tone made Helen look at him sharply.
" 'To Captain Aivars Terekhov and the men and women of HMS Hexapuma and HMS Warlock, from Admiral of the Green Sebastian D'Orville, Commanding Officer, Home Fleet. Well done.' Message ends."
Helen frowned, but before the message had time to sink in, the main tactical display changed abruptly. In one perfectly synchronized moment, forty-two superdreadnoughts, sixteen CLACs, twelve battlecruisers, thirty-six heavy and light cruisers, thirty-two destroyers, and over a thousand LACs, activated their impeller wedges. They appeared on the display like lightning flickering outward from a common center, a stupendous globe thousands of kilometers in diameter, and Hexapuma and Warlock were at its exact center.
Helen recognized that formation. She'd seen it before. Every man and woman in Navy uniform had seen it, once every year, on Coronation Day, when Home Fleet passed in review before the Queen . . . with its flagship in exactly the position Hexapuma and Warlock now held. Even as she stared at the display, another icon appeared upon it. The crowned, golden icon of HMS
Duke of Cromarty, the battlecruiser which had replaced the murdered HMS Queen Adrienne as the royal yacht, sitting just beyond the threshold of the Junction. A Junction, Helen sudden realized, which had been cleared of shipping— all shipping—except for Home Fleet itself. The vast globe accelerated towards Cromarty, matching its acceleration rate exactly to Hexapuma's, holding formation on the heavy cruiser and her single escort, and the raised wedge of every ship in that huge formation flashed off and then on again in the traditional underway salute to a fleet flagship.
"Additional message, Sir," Nagchaudhuri said. He stopped and cleared his throat, then continued, and despite his throat clearing, his voice seemed to waver about the edges.
Download


Copyright Disclaimer:
This site does not store any files on its server. We only index and link to content provided by other sites. Please contact the content providers to delete copyright contents if any and email us, we'll remove relevant links or contents immediately.