Spear of Destiny by James Osiris Baldwin
Author:James Osiris Baldwin [Baldwin, James Osiris] , Date: May 5, 2021 ,Views: 17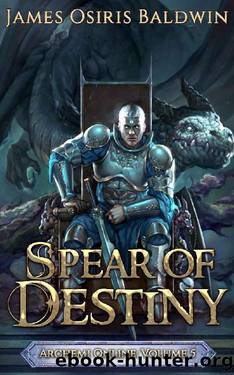 Author:James Osiris Baldwin [Baldwin, James Osiris]
Language: eng
Format: epub
Published: 2021-02-05T16:00:00+00:00



[You have a new Quest: Bounty—The Warsingers]
I opened the quest and let Navigail read it aloud.
New Bounty: The Warsingers
Ignas Corvinus II, the Volod of Vlachia, is offering a substantial bounty for the safe return of the Warsingers to Vlachian soil. Complete this bounty by salvaging the Warsingers or their key components and returning them to Vlachia.
Rewards: 20,000 olbia and 5000 EXP per Warsinger.
I whistled. "Damn, man... thanks."
"This is the maximum bounty the system allows me to offer," Ignas said. "That alone should tell you how important I consider the retrieval of these artifacts to be. Hyland is fielding soldier-piloted versions of these machines, and it's a matter of time before he improves this technology and normal infantry becomes obsolete. We need to outpace his advancements."
Lanz's eyes flicked to Ignas. "Infantry? Obsolete? With all respect, Your Majesty, that seems a bit extreme."
Ignas shook his head. "I fear it is not."
"There's always a need for boots on the ground, but yeah. It's a risk." I cast one final look down at the map, making sure I had a copy of it in my HUD. "We'll see what we can do. To be honest, though, we probably need a fleet ourselves. A Stranged Sandworm is guarding the Warsinger. The damn thing is Level 120."
"You've pulled off two military miracles in the time I've known you. With Rin at your side, I believe you will find a way to defeat it and claim Lady Suri's birthright." Ignas watched us as Rin got to her feet. "But no matter what, the four of you must get that Warsinger and keep it out of Hyland's hands. The Gods shudder to think what this Architect could do with such power in his possession."
Download


Copyright Disclaimer:
This site does not store any files on its server. We only index and link to content provided by other sites. Please contact the content providers to delete copyright contents if any and email us, we'll remove relevant links or contents immediately.