South with the Sun by Lynne Cox
Author:Lynne Cox [Cox, Lynne] , Date: October 26, 2017 ,Views: 1085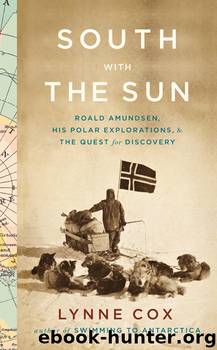 Author:Lynne Cox [Cox, Lynne]
Language: eng
Format: epub
ISBN: 978-0-307-70049-0
Publisher: Knopf Doubleday Publishing Group
Published: 2011-09-13T04:00:00+00:00



Jimmy shows off his hunting stick beside a polar-bear skin. Now he waits for the Arctic char to return to King William Island.
Still restless and feeling lonely, I walked by Jimmy the elder's small white home, hoping he would be outside working. He was. Jimmy was a medium-sized man in his seventies, thin and hollow-cheeked with bronzed skin from his genes and from working in the sun.
Jimmy showed me a fishing spear he was carving and filing down from a musk-ox horn. He held the horn up and showed me how he filed it down. His fishing spear suddenly reminded me of a picture I'd seen in Amundsen's book about the Northwest Passage.
Amundsen's best friend, Talurnakto, "the Owl," had stood knee-deep in a stream and used a spear that looked exactly the same as Jimmy's to stab trout. It was as if history had become the present within this artifact. And then I realized Jimmy must have thought about what I'd said to him, about how his ancestors had helped Amundsen learn how to survive so he could reach the South Pole.
Jimmy was teaching me how to make a fishing spear.
He turned the musk-ox horn on its side, held it with one hand, and filed with quick side-to-side hand movements with the other. He blew away the filed particles, ran his hand along the horn, and let me touch the spear so I could see how it felt.
For the next four days, I stopped by to watch him file the bone. He worked hard, taking in a deep breath, holding it as he filed, and then blowing it out. Each day the musk-ox horn was a little smoother, more refined, and the point a lot sharper.
And one day the musk-ox horn was just the shape Jimmy wanted; he attached the spear to a long wooden pole with a heavy rope. He turned the rope twice around the spear to make sure it was secure and tied it off on the bottom. He showed it to me as he worked so I would know just how to do it. We didn't need words to enjoy each other's company or to understand each other.
Sometimes words are just an embellishment for what is already known. On the day Jimmy finished the fishing spear, he showed it to me with great pride. I thanked him for teaching me and put my hand on my heart and said thank you in Inuktitut, the Inuit language. He smiled, and he said something; I couldn't understand the words, but when I turned to walk away, he said, "Good-bye." I couldn't leave like that. I walked back and extended my hand. His was large, and his long fingers wrapped around mine. We shook hands and said good-bye again.
As I walked back to the hotel I thought about what one of the local doctors had told me, that the elders like Jimmy were the ones who held the community together. They were all in their seventies, and they were slowly dying off.
Download


Copyright Disclaimer:
This site does not store any files on its server. We only index and link to content provided by other sites. Please contact the content providers to delete copyright contents if any and email us, we'll remove relevant links or contents immediately.