Showdown at Gucci Gulch by Alan Murray
Author:Alan Murray [Birnbaum, Jeffrey H.] , Date: September 20, 2017 ,Views: 748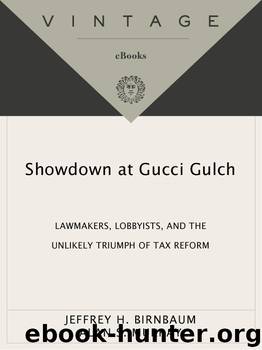 Author:Alan Murray [Birnbaum, Jeffrey H.]
Language: eng
Format: epub
ISBN: 978-0-307-76174-3
Publisher: Knopf Doubleday Publishing Group
Published: 2010-12-22T05:00:00+00:00



The chairman wanted to give her his kidney, but was told he could not. At the time of the markup, the family was caught between doctors and conflicting advice about how to improve Stacy's faltering health.
During the same period, Rostenkowski faced other troubles as well. He and his committee were under heavy pressure to produce budget savings to help reduce the deficit and also to help draft the controversial deficit-reduction law called Gramm-Rudman-Hollings. "I'll be surprised if I don't have a nervous breakdown," he confided to his colleagues.
The most severe tests of the drafting session began on Thursday, November 21—just one day before Rostenkowski hoped to finish the bill. That evening, the committee took up the chairman's proposal to allow deductions for only 75 percent of the cost of business meals, and for only 50 percent of entertainment expenses, such as theater or sports tickets. The proposal was opposed by an extremely powerful coalition, which included big companies like American Express, as well as unions, hotels, professional sports teams, and the tourism bureaus of some of the nation's largest cities. So heated was the lobbying that the issue was taken up in full committee without the recommendation of a working group. The coalition's members worked hard. One New York representative was told by an executive in the Mets baseball organization that the team might have to sell Dwight Gooden, its star pitcher, if the deduction were cut back too far. Opponents of the Rostenkowski plan argued that thousands of jobs and billions of dollars of business would be lost from their arenas and restaurants.
An amendment to undermine the chairman's position was offered by Wyche Fowler of Georgia. It would keep the deduction at 100 percent, but would add a new set of compliance measures to assure that deductions were taken for legitimate business expenses only. The Fowler plan was welcomed by the lobbying coalition, but it raised far less revenue than the $13 billion Rostenkowski wanted.
As debate on the issue began, the chairman was informed by his staff that he would probably lose to the Fowler amendment by two votes. The loss would be a severe blow, dashing the chairman's hopes for keeping the top individual tax rate in a range acceptable to the president and possibly inspiring other dissidents to bring forth their own, expensive amendments to further undercut the enterprise.
Before he asked for a show of hands, Rostenkowski made an extraordinary plea for support. This was a difficult issue for him. His Illinois protégé, Marty Russo, sided with his opponents. Bob Juliano, a longtime friend from Chicago, was a head lobbyist for the coalition. But Rostenkowski had said time and again that everyone's tax breaks had to be placed on the table for reform to succeed; it was important that this one not be taken off.
Everyone knew that another watershed vote was at hand. The chairman spoke in a low, measured voice. The entire hearing room was rapt. He reminded his members that they were engaged in tax reform.
Download


Copyright Disclaimer:
This site does not store any files on its server. We only index and link to content provided by other sites. Please contact the content providers to delete copyright contents if any and email us, we'll remove relevant links or contents immediately.