Short Range (The Spider Shepherd Thrillers Book 16) by Stephen Leather
Author:Stephen Leather [Leather, Stephen] , Date: September 6, 2019 ,Views: 579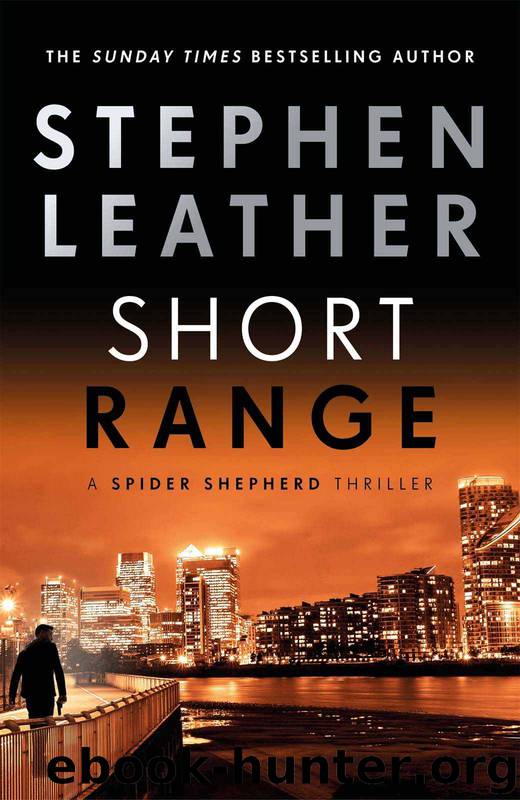 Author:Stephen Leather [Leather, Stephen]
Language: eng
Format: epub
Publisher: Hodder & Stoughton
Published: 2019-07-24T16:00:00+00:00



Shepherd switched on his phone as soon as the plane touched down and he got a signal as it taxied up to its gate. He had received a text message. He assumed it was Katra but it was Pritchard, saying that he was in the office and that he wanted Shepherd to report to him.
Shepherd went through the automatic passport gates with Dexter and his team, and they all shook hands in the arrivals area. 'I'll drop you a line about meeting up with the rest of the guys,' promised Dexter, patting Shepherd on the shoulder.
Dexter and his group headed off to the car park while Shepherd went to the black cab rank. He took a taxi to Thames House but had it drop him on the Embankment a short distance away. The nature of the work that went on in the building had long since ceased to be a secret, and being dropped outside almost always bought a cheery comment about spies or James Bond or Miss Moneypenny, even though the world's most famous secret agent actually worked for MI6 and would be based at the SIS Building across the river at Vauxhall Cross.
Shepherd walked to the front entrance. He showed his Home Office ID and passed through the metal detector. He waited while his holdall was checked by a uniformed security guard, and took the lift up to Pritchard's floor. His secretary wasn't at her desk and the director's door was open. Shepherd knocked lightly.
'Yes, come, come,' said Pritchard. Even though it was a Sunday he was wearing a suit and tie, though he had taken off the jacket and slung it over the back of his chair. 'Sit down,' he said, still looking at his screen.
Shepherd dropped his holdall on the floor and sat down. Pritchard finished whatever he was doing and looked at him expectantly. 'How did it go?'
'Extremely well,' said Shepherd. 'They were definitely there looking for kit. Grenades and RPGs. They practised with both while we were over there. The top guy there was called Branko, with three other Serbs, and I'm pretty sure they were all former Scorpions. Two of them, including Branko, had scorpion tattoos.'
'The fact that your little jolly was in Sid should have been a clue,' said Pritchard. 'Once the Yugoslav Wars were over, a lot of the Scorpions moved to Sid. It became a bit of an enclave.'
'I didn't know that.'
'I was over in that part of the world during the nineties,' said Pritchard.
'Me too,' said Shepherd.
'Really? Where?'
'Sarajevo. 1995.'
'During the siege? Those were bad times.'
'Tell me about it.'
'So you'd have been with the SAS back then?'
Shepherd nodded. 'We were tasked with taking out a sniper. Got him eventually.' Shepherd frowned. 'If you don't mind me asking, what were you doing there?'
Pritchard smiled. 'Sadly, that is still classified.'
'You were there for MI5?'
'I admire your persistence, Daniel, but my lips are sealed.'
Shepherd realised that Pritchard was in no mood to be questioned. 'Anyway, I managed to get a look at Dexter's mobile,' said Shepherd.
Download


Copyright Disclaimer:
This site does not store any files on its server. We only index and link to content provided by other sites. Please contact the content providers to delete copyright contents if any and email us, we'll remove relevant links or contents immediately.