Sexy Christians by Dr. Ted Roberts
Author:Dr. Ted Roberts , Date: January 27, 2018 ,Views: 879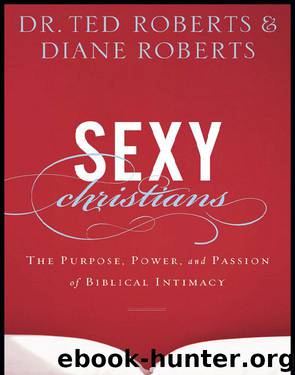 Author:Dr. Ted Roberts
Language: eng
Format: epub
Tags: ebook, book
ISBN: 9780801013461
Publisher: Baker Publishing Group
Published: 2010-06-29T04:00:00+00:00



Part 3
The Passion
The Holy Spirit Infuses Our Sexual
Relationship with True Passion as We
Increasingly Surrender Our Lives to the Lord
9
One Hot Couple
What's the Secret to Great Sex?
TED
One of the things that has always puzzled me is how the church can be so negative toward sex when the Bible is so positive about it. I remember one Sexy Christians Seminar we did at a very conservative church. The pastor unwittingly entered a verbal shooting gallery before the seminar. One gentleman protested the title because it was "too arousing." The pastor asked what was wrong with being aroused with your mate. "Well," the man responded, "I don't like to get that aroused." He must have one exciting marriage, don't you think?
The protesting man is not alone in his struggles. From its earliest days the church has wrestled with the issue of sexuality. Some of the apostolic fathers also took a rather negative view of this topic. Origen, a renowned scholar of the church in the first half of the third century, was so adamant with respect to sexual purity that he castrated himself in response to Matthew 19:12.1 I'd call this an intense (as well as extremely personal) reaction.
Augustine, the greatest theologian of the early church, declared marriage was acceptable but singleness was preferable. According to his teaching, sexual activity between husband and wife should be allowed only for procreation (producing children). If the couple dared engage in sexual activity for the purpose of enjoyment, they were obviously sinful.2 From his perspective, Diane and I have been sinning significantly for more than four decades.
Back to the Bible
Fortunately Scripture presents no such outlook. For example, the Old Testament Song of Songs sets forth an exquisite picture of sexual intimacy and love between husband and wife. It depicts in detail the beauty of the sexual relationship in marriage but doesn't mention procreation at all. Instead it focuses completely on the joys and challenges of human sexuality.
I remember my years as a Bible school professor at the undergraduate level. Students often came up to me to ask, "Dr. Roberts, what's the Song of Songs about?"
I smiled because I knew what they meant. They couldn't believe God had such a stunningly positive view of sex. "It's a great book," I told them. "It's the only R-rated book in the Bible. R doesn't stand for raunchy but for outrageously, passionately, Romantic." Then I winked (specifically at the guys) and added, "And the steamiest translation is The Living Bible. You need to read it." My last remark certainly boosted Bible sales in our college bookstore.
The depiction of marital intimacy in the Song of Songs is a healthy antidote to the diseased perspective of our day. If you take time to read the book carefully, you may be taken aback by the bride's forthrightness. She's not a passive participant or reflexive responder. Of the book's 119 verses, the bride speaks in 74 of them, and her words can hardly be called idle chatter. In the first two chapters alone, she tells her man in a gracious way exactly how she wants to love him.
Download


Copyright Disclaimer:
This site does not store any files on its server. We only index and link to content provided by other sites. Please contact the content providers to delete copyright contents if any and email us, we'll remove relevant links or contents immediately.