Crash the Chatterbox by Steven Furtick
Author:Steven Furtick [Furtick, Steven] , Date: December 23, 2017 ,Views: 1539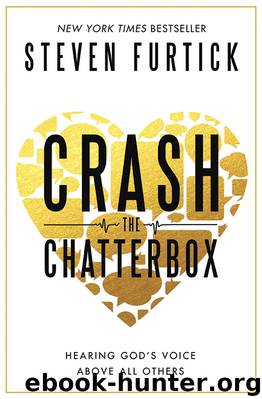 Author:Steven Furtick [Furtick, Steven]
Language: eng
Format: epub
ISBN: 978-1-60142-458-7
Publisher: The Crown Publishing Group
Published: 2014-02-11T05:00:00+00:00



The key is training your mind to know the difference between the Enemy's threats and God's whispers—and conditioning your heart to respond accordingly.
The Enemy's threats are embedded in lies.
God's whispers are rooted in truth.
The Enemy's threats are designed to paralyze.
God's whispers are empowered to mobilize.
The Enemy's threats condemn vaguely (a reality we'll address in depth in the next section).
God's whispers instruct specifically.
The Enemy's threats conspire to diminish hope.
God's whispers empower change.
The Enemy's threats are aimed to take you out.
God's whispers speak a better Word to keep you in and move you forward.
The secret to overpowering the spirit of fear is recovering the signal, then attuning your spirit to the One who is always speaking. His voice resounds, not at 210 decibels like a blast of TNT, but in a silence that can be heard if you have ears to hear.
And He says things like,
I've got this one, just like the last one.
Trust in Me with all your heart. Stop leaning on your own understanding.
We'll make it to the other side of this valley. We're just passing through.
You can carry on and rise again in My name.
I have clothed you with strength, and I will never forsake you.
I've numbered the very hairs on your head.
That last one is quite an intimate image. You can't number someone's hairs, one by one, from a distance.
You have to be up close and personal to do that.
Download


Copyright Disclaimer:
This site does not store any files on its server. We only index and link to content provided by other sites. Please contact the content providers to delete copyright contents if any and email us, we'll remove relevant links or contents immediately.