Missionaries by Norman Lewis
Author:Norman Lewis [Lewis, Norman] , Date: January 28, 2018 ,Views: 1089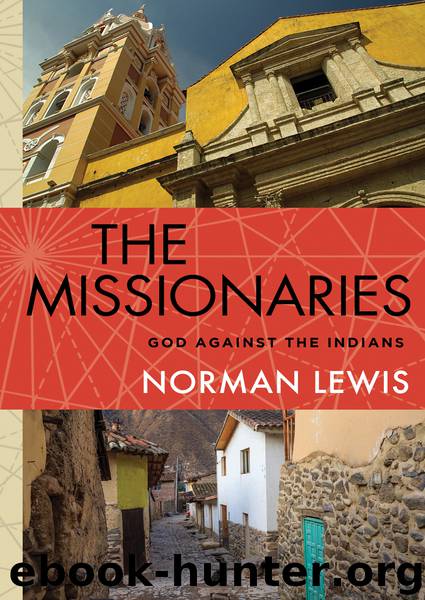 Author:Norman Lewis [Lewis, Norman]
Language: eng
Format: epub
ISBN: 978-1-4804-3333-5
Publisher: Open Road Media
Published: 2013-06-22T19:22:00+00:00



Mr Depue's successful collaboration with the Bolivian Army, as described to me, was probably the last operation of its kind, after which it is believed that no Ayoreos were left at large in Bolivia.
The once virtually impenetrable jungle of thorn-scrub and swamps, known as the Gran Chaco, sometimes referred to as the 'Green Hell', covers an area of roughly 1,600 square miles and is divided by Bolivia and Paraguay. As far as is known, the last of the Bolivian Ayoreos had been cleared out of the Bolivian sector to the north of the operation in which Mr Depue was engaged, although possibly 1,500 remained in Paraguay. Ranchers and oil prospectors began to move into the area. In 1942 General Alfredo Stroessner, dictator of Paraguay, gave a contract to the New Tribes Mission of Florida 'to settle and civilize' the Indians of the Chaco, later presenting them with 2,500 hectares of land.
It was a task which the missionaries set out to accomplish with considerable vigour and, as one can gather from the accounts of the day, with the assistance of the Paraguayan airforce. In 1943 the first of many Indian hunts by the missionaries took place, in the course of which five missionaries were killed.
Missionary descriptions of such operations are often disarmingly simple and direct—all the more so because it has always been NTM policy to recruit young evangelists of limited education, who are not always discreet. God Planted Five Seeds, by Jean Dye Johnson, a classic of its kind, is the account of a young missionary wife, soon to become a widow.
When the Johnsons arrived in Paraguay it is not at all certain from the wife's account that they realized that they were in the same continent as the United States. Only once in 213 pages does she refer to Indians, and then in quotes, as if real Indians were to be found only in North America. Otherwise the mission is out to capture 'naked savages', or bárbaros.
Mrs Johnson refers in terms of rather dreamlike detachment to the killing of naked savages and a single quotation is enough to convey some idea of what the process of capture and conversion must have been like for those subjected to it.
We did not know then how clever the Ayoreo were at hiding from the very sight of a plane. A captive bárbaro later explained how everyone threw himself on the ground at the first sound in the air. A mother would prostrate herself over her child to keep him from moving, her brown body blending into perfect camouflage with the jungle browns and greens.
Download


Copyright Disclaimer:
This site does not store any files on its server. We only index and link to content provided by other sites. Please contact the content providers to delete copyright contents if any and email us, we'll remove relevant links or contents immediately.