Savage Hunt (Ryan Savage Thriller Series Book 6) by Jack Hardin & Jason Briggs
Author:Jack Hardin & Jason Briggs [Hardin, Jack] , Date: August 2, 2020 ,Views: 22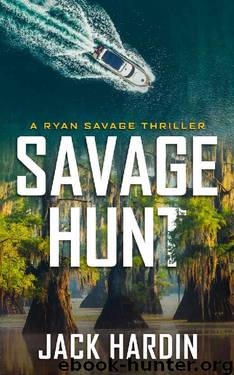 Author:Jack Hardin & Jason Briggs [Hardin, Jack]
Language: eng
Format: epub
Publisher: The Salty Mangrove Press
Published: 2020-08-01T16:00:00+00:00



Chapter Sixteen
"Anything yet?"
Ray Leblanc had his phone to his ear with one hand while using his other to keep a pair of field glasses in front of his eyes. "I would have called and told you if she had turned up, Tito."
"Well, I've been watching over here all day, and I haven't seen her go in or out. Nothing last night either. She would have said something by now. I'm tired, Ray."
"And you think I'm not?"
"Are the cops gone from over there?" Tito asked.
Ray had been watching the Broussards' since late last night, hoping to catch the girl coming home. After silencing that idiot woman and her husband, they had gone into the next town and picked up burgers for dinner before coming back after dark and Ray setting up in the woods across from the house. Tito was set up near the local police station to see if the girl visited there.
"Yeah," Ray answered. "They left with the crime scene unit about two hours ago. Then some guy in plain clothes went in and looked around for a while."
"Why wouldn't she have just gone to the cops? It doesn't make sense."
Ray agreed. It didn't make sense. But she hadn't. At least, not yet. At his feet, resting in a bed of pine needles, was a police scanner. An earpiece that was tucked into his right ear led down to it. So far he hadn't heard anyone called out a BOLO that matched his and Tito's descriptions. No BOLOs at all, in fact.
Ray had known where she lived because, until he had scored his current job, he had worked maintenance for the parish. He was mowing the field in front of the Broussards'–why the parish wanted to keep it mowed back, he didn't know—when the girl had come out of the house and sat on the front steps with a notepad or sketchbook, or something. His face had been hidden behind a hunting mask intended at the time to keep the dust out of his face and his allergies at bay.
"I don't know," Ray replied, and he was starting to get a little nervous that she was still out there somewhere, and that she had seen what they had done.
"This is stupid," Tito whined. "She could be anywhere. What if she went to a friend's house instead and is staying with them?"
A thought sparked in the back of Ray's mind. He brought the field glasses away from his face and smiled. He bent down, picked up the police scanner, and started back through the woods.
"Tito, I think I have an idea."
Download


Copyright Disclaimer:
This site does not store any files on its server. We only index and link to content provided by other sites. Please contact the content providers to delete copyright contents if any and email us, we'll remove relevant links or contents immediately.