Russia and the Idea of the West by English Robert;
Author:English, Robert; , Date: May 31, 2020 ,Views: 82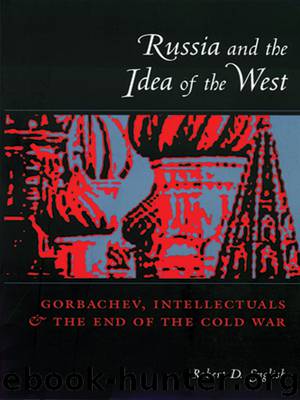 Author:English, Robert;
Language: eng
Format: epub
Tags: POL011000, Political Science/International Relations/General, HIS010000, History/Europe/General
Publisher: Columbia University Press
Published: 2000-07-14T16:00:00+00:00



Gorbachev's decision to replace the aged Gromyko with his colleague and confidant (edinomyshlennik) Shevardnadze was another signal of bold changes ahead.49 Had Gorbachev simply sought to "put his personal stamp" on foreign relations (as many believed) and remove a figure too closely tied to past policies, any one of several Foreign Ministry deputies could have been promoted. By appointing Shevardnadze, Gorbachev not only gained a minister of great personal loyalty and one whose reformist credentials rivaled his own.50 He also appointed an individual who, while lacking diplomatic experience, shared with him an outlook and set of priorities on a number of issues directly relevant to foreign policy. As long-time bosses of primarily agricultural regions, they stood out from others in the leadership for their meager industrial experience and weak links to the military-industrial complex. Indeed, their lack of ties to the key Moscow constituencies that constituted the power base of most previous Soviet leaders was remarkable.51 Shevardnadze had spent his entire career in Georgia, while Gorbachev's relatively brief tenure in the capital had been dominated by his stewardship of agriculture.52 Instead of the favored industrial sectors and artificial prosperity of Moscow, they were closer to the country's "real conditions," particularly its disastrous collective farms.53 These, in private, Gorbachev scorned as a system of "serfdom."54
Thus, even without the benefit of precise statistics, Gorbachev and Shevardnadze knew better than others in the top leadership the true impact of skewed economic priorities. Further, their native Caucasian regions, as key southern transit bases, were geographically and politically close to Afghanistan. Georgia, in particular, was a point through which many dead and wounded soldiers returned home, a situation that weighed heavily on republican leaders.55 Fittingly, it was during one of their annual meetings at the Georgian resort of Pitsunda that Gorbachev and Shevardnadze first learned of the invasion.56
Shevardnadze also shared Gorbachev's concern over Eastern Europe, though the two arrived at their views from different vantages. Gorbachev's early distaste for "Comintern-style" bloc relations, and his admiration for West European Communist Parties that leaned toward social democracy, have already been described.57 By 1985, according to Akhromeyev, his now-considerable international experience had convinced Gorbachev that only by "radically transforming" the confrontation of European blocs could he develop "normal political and economic relations with the West … one of his main goals."58 In contrast to Gorbachev's increasingly "global" perspective, Shevardnadze's views on Eastern Europe had rather more "provincial" roots. They were, first, those of a republican leader who had studied Hungarian reforms for their application in Georgia.59 But his was also the outlook of the "governor" of a "Russian colony" that had long chafed under Moscow's control, and so one who understood intrinsically the long-term untenability of imperial diktat—and the likelihood of recurrent crises—in Eastern Europe.60
Their Afghan and East European priorities were reflected in Gorbachev's and Shevardnadze's early steps. In one of his first actions as leader, without even waiting for Central Committee approval, Gorbachev ordered preparation of a plan for near-term withdrawal from Afghanistan.61 By the summer of 1985, criticism of the war had become a serious issue in the press.
Download


Copyright Disclaimer:
This site does not store any files on its server. We only index and link to content provided by other sites. Please contact the content providers to delete copyright contents if any and email us, we'll remove relevant links or contents immediately.