Runner by Lizzy Hawker
Author:Lizzy Hawker [Hawker, Lizzy] , Date: July 7, 2020 ,Views: 156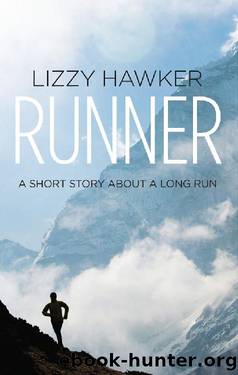 Author:Lizzy Hawker [Hawker, Lizzy]
Language: eng
Format: epub
ISBN: 9781781314678
Publisher: Aurum Press Ltd
Published: 2015-04-01T22:00:00+00:00



Chapter Ten
Our limits today may not be where they were yesterday, or where we hope they will be tomorrow.
But it is today that counts.
And sometimes even in today we can go beyond what we think is possible.
I pass through Junbesi, a beautiful Sherpa village with what is said to be the oldest monastery in the Solukhumbu region. I circle the stupa at the entrance to the village, and turn the prayer wheels; children are playing and we exchange some happy 'namastes'. Then it is the long ascent through pine forest up to the Lamjura La. Back in mobile coverage I send a quick text to Richard to let him know my progress. There is a comforting chirrup back. Richard is in a hired bus en route to Jiri, with Upendra, and with banana bread (I had been more specific with instructions than when Roger had supported me last time). He is coming! I wonder how his night had been, whether he managed to get what he needed done. I feel guilty at what I've asked him to do and the time I'm asking him to give up when his Mustang race is just days away, but selfishly I'm glad I have, it will be fun sharing the last part of the journey with him and Upendra.
Then another chirrup, 'Cappuccino in Jiri? Brought frother.' His message makes me smile, it is going to be OK.
How quickly can I reach that coffee? There is less snow on the pass than on my training jaunt a few weeks ago, but the descent to Kenja is as long and hard as ever. Non-runners can sometimes imagine the descents to be easy, but it is nearly 2,000m down and a rocky trail. On now tired legs the stones are torture for my already battered feet. I try to concentrate my energy and just focus on moving forwards.
I know these trails intimately now, there are no unrecognisable meanderings this time. I make the long haul up to Deurali and then the heavens open up as I run downwards towards Shivalaya. No sinking heart this time though, I can get soaked right through now, it doesn't matter, I'll be in Jiri in another few hours and Richard and Upendra will be waiting.
Another chirrup – they are five kilometres from Jiri with a flat tyre. Will it be fixable or will I have to run on and find them somewhere on that road beyond Jiri? Wherever they are I know I can make it, and then we can decide how to deal with the situation. Another chirrup, they have arrived: 'Storm passed. Now fresh in Jiri.' Great, that means that I'll soon run out of this incessant downpour. I run on through the wet village, across the bridge and onwards and upwards towards the last pass. The rain dries up and I'm getting close now, pulled onwards by the thought of Richard waiting, of cappuccino and banana bread.
I remember every twist and all the furrowed ruts of the trail here.
Download


Copyright Disclaimer:
This site does not store any files on its server. We only index and link to content provided by other sites. Please contact the content providers to delete copyright contents if any and email us, we'll remove relevant links or contents immediately.