Rowland Bingham: Into Africa's Interior by Geoff Benge & Janet Benge
Author:Geoff Benge & Janet Benge [Benge, Geoff & Benge, Janet] , Date: June 3, 2020 ,Views: 36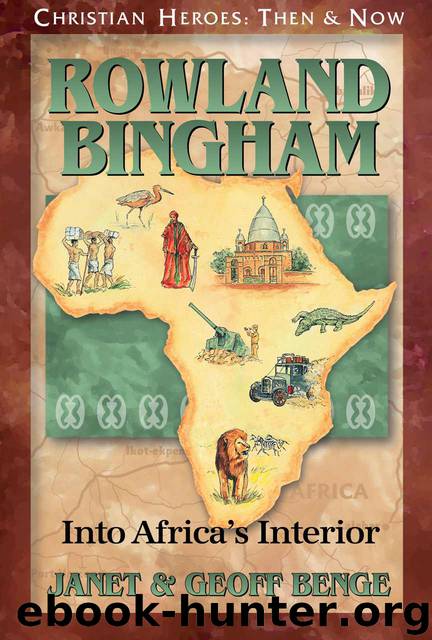 Author:Geoff Benge & Janet Benge [Benge, Geoff & Benge, Janet]
Language: eng
Format: epub
Tags: Biography
ISBN: 9781576582824
Google: mh6xPQAACAAJ
Amazon: 1576582825
Barnesnoble: 1576582825
Goodreads: 253365
Publisher: Y W A M Pub
Published: 2003-01-01T00:00:00+00:00



Chapter 10
Into Tangale Territory
Rowland and Herbert spent six months visiting all eight Sudan Interior Mission stations. They covered hundreds of miles on foot or on bicycles under the harsh African sun. Still, Rowland was glad to be able to see all that was going on. He not only offered suggestions and advice but he also observed what worked, then took those ideas from one mission station to the next.
In June Herbert had to return to his church in Canada. After Herbert's departure, Rowland planned a trip to a tribe who had no Christian witness among them. These people were called the Tangale, and they lived 250 miles to the northeast of Miango, SIM's farthest outpost. It would take at least two weeks to cover that distance on foot—that is, if anyone dared walk in a straight line to get there. It was not an adventure for the fainthearted. To get there, one would have to pass through territory of ten other tribes, some of whom were known to be cannibals, while others killed men with peeled skin (white men) on sight. However, Rowland felt a strong urge to reach the Tangale people. He invited Andrew and another missionary, Norman Davis, to accompany him.
The trip started routinely enough, with ten to twelve hours of walking a day. After about seven days, they reached a group of light-skinned nomadic cattle herders called the Fulani people. Andrew had learned their language so that he could preach to them in the marketplace when their trading enterprises brought them down to Patigi. The Fulani had made a simple and temporary village out of cornstalks, and they invited the three men to stay the night with them. It turned out to be a longer stay, however, because Norman came down with a bad case of dysentery. He became so weak that Andrew came to Rowland with the worst possible news: he believed that Norman was too ill to survive.
Together Rowland and Andrew decided they should share the news with Norman, in case he had any last words he wanted written down. When Rowland told him he would probably be dying within a few hours, Norman smiled and said, "I thought I was coming out to live for the Lord, but if He wants me to die, He knows His own business best."
Once again Rowland was humbled by the attitude of an SIM missionary, and he knew he would never forget Norman's reply. Alas, soon he had more to be concerned about. Andrew also came down with dysentery, leaving Rowland to nurse them both. Rowland knew how to look after a patient with dysentery, but the two men needed one thing they had run out of—clean water. They had carried some with them, but by now it was all gone. The only water source in the village was a large, circular hollow that filled up in the rainy season. Now, toward the end of the dry season, the water was muddy, and every person, horse, cow, and pig in the village drank from it.
Download


Copyright Disclaimer:
This site does not store any files on its server. We only index and link to content provided by other sites. Please contact the content providers to delete copyright contents if any and email us, we'll remove relevant links or contents immediately.