Primal: A Quest for the Lost Soul of Christianity by Mark Batterson
Author:Mark Batterson [Batterson, Mark] , Date: March 20, 2015 ,Views: 757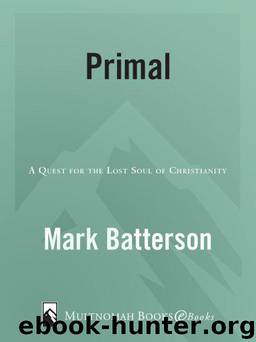 Author:Mark Batterson [Batterson, Mark]
Language: eng
Format: epub
Publisher: Random House, Inc.
Published: 2009-12-09T05:00:00+00:00



DISUSE SYNDROME
Physician and Stanford University School of Medicine professor Walter Bortz is credited with coining the term disuse syndrome. He originally used the phrase to describe how negligence in the area of physical activity can destroy health. Use it or lose it. That is a basic tenet of physiology. If you stop using any, part of your body, including your mind, it atrophies. Like muscles that grow through exercise, the brain is capable of far greater endurance and imagination than we imagine. And when we exercise it repeatedly, it grows stronger and larger by recruiting new neuronal connections. That's why the left angular gyrus, which plays an important role in language processing, is larger in bilinguals than in monolinguals. Bilinguals use it more. But if you fail to use your mind, it atrophies. And when the mind atrophies, the soul shrivels.
I recently read that the average college graduate reads two books per year.5 My first reaction was this: why waste your money on an education if you're going to stop learning once you graduate? The goal of a good education isn't learning. The goal ought to be a lifelong love of learning. And two books a year doesn't cut it. I know we're busy, but no one is too busy to go to the bathroom, right? So here's an idea. If you simply put a book in your bathroom, you can read at least one book a month.
Up until my senior year of college, I'd probably read a grand total of two dozen books not assigned by teachers. And most of them were sports biographies with lots of stats and pictures. I wasn't a reader, but that changed when I picked up an eight-hundred-page biography of Albert Einstein during a road trip with our basketball team. Somewhere along Interstate 44 between Kansas City and Springfield, Missouri, I developed a reading addiction. And it's one Einstein quote in particular that inspired me. It has become a personal mantra:
The important thing is not to stop questioning. Curiosity has its own reason for existence. One cannot help but be in awe when he contemplates the mysteries of eternity, of life, of the marvelous structure of reality. It is enough if one tries merely to comprehend a little of this mystery every day. Never lose a holy curiosity.6
Download


Copyright Disclaimer:
This site does not store any files on its server. We only index and link to content provided by other sites. Please contact the content providers to delete copyright contents if any and email us, we'll remove relevant links or contents immediately.