Organised Sexual Abuse by Salter Michael
Author:Salter, Michael [Salter, Michael] , Date: April 12, 2018 ,Views: 858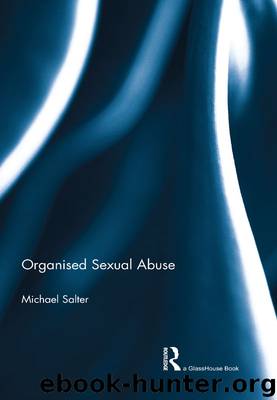 Author:Salter, Michael [Salter, Michael]
Language: eng
Format: epub
ISBN: 9781136177798
Publisher: Taylor and Francis
Published: 2012-11-11T21:00:00+00:00



The conundrum of 'I don't want to go, but I have to go' articulated by Jo was evident in many participants' accounts of organised abuse. Gaspar and Bibby (1996: 50) observe that it is often difficult for investigators of organised abuse to understand 'why children keep going back to be abused, sometimes in the most degrading manner, and why, when away from the offender, they do not disclose'. In this study, children's obedience was not simply a product of the coercive strategies utilised by abusive groups, although the threats, violence and emotional manipulations of the abusive group certainly exerted a powerful influence. Rather, the acceptance that 'I have to go' was the product of a process whereby participants became enmeshed within a larger cycle of abuse, invalidation and powerlessness, as their attempts to disclose were ignored, their symptoms of abuse were misunderstood, and their escalating need for intervention and support went unmet.
Participants' lives as adults had been marked by violence and physical and mental illness. For seven female participants, organised abuse continued into adulthood and three participants spoke, with great difficulty, about the fact that their children had also been victimised. Rhea and Isabelle described how, in the early years of their children's lives, they were still struggling to extricate themselves from the abusive group and as a result their children were also abused. Anne's son Jimmy was subject to organised abuse by Anne's parents when she left him with them for babysitting. It was only after Jimmy began describing sadistic sexual abuse by his grandparents that Anne began recalling her own childhood abuse (Anne's case is discussed in more detail in Salter 2011). Anne immediately reported Jimmy's disclosures to child protection services and the police, and moved away from her parents, however she lived for many years with feelings of guilt at having placed her child in the care of her parents in the first place.
The denial — for ages, I had the guilt. How can you be forty and not know this about your dad? I still idolised dad. And then, when these facts came out [Jimmy's abuse], then eventually I was just hearing things [about sexual abuse and traumatic amnesia] on the radio at the time. And I think the guilt must have lessened enough for me to hear it [information about sexual abuse and traumatic amnesia]. They said [on the radio program], 'The more trauma you've experienced, the less you are likely to remember it.' But it took me years [to accept that], even after hearing hints like that, and doing counselling courses. I felt so guilty that there was no way I could accept that I didn't, somehow, know that this was the family I came from.
Download


Copyright Disclaimer:
This site does not store any files on its server. We only index and link to content provided by other sites. Please contact the content providers to delete copyright contents if any and email us, we'll remove relevant links or contents immediately.