On Tyranny by Timothy Snyder
Author:Timothy Snyder , Date: March 4, 2017 ,Views: 1699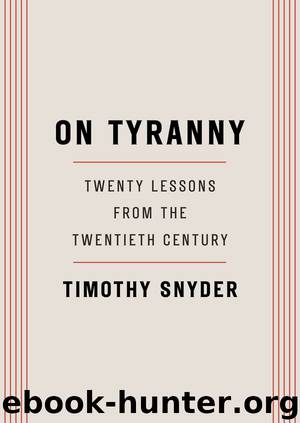 Author:Timothy Snyder
Language: eng
Format: epub, mobi
Publisher: Tim Duggan Books
Published: 2017-02-27T16:00:00+00:00



Ionesco's aim was to help us see just how bizarre propaganda actually is, but how normal it seems to those who yield to it. By using the absurd image of the rhinoceros, Ionesco was trying to shock people into noticing the strangeness of what was actually happening.
The rhinoceri are roaming through our neurological savannahs. We now find ourselves very much concerned with something we call "post-truth," and we tend to think that its scorn of everyday facts and its construction of alternative realities is something new or postmodern. Yet there is little here that George Orwell did not capture seven decades ago in his notion of "doublethink." In its philosophy, post-truth restores precisely the fascist attitude to truth—and that is why nothing in our own world would startle Klemperer or Ionesco.
Fascists despised the small truths of daily existence, loved slogans that resonated like a new religion, and preferred creative myths to history or journalism. They used new media, which at the time was radio, to create a drumbeat of propaganda that aroused feelings before people had time to ascertain facts. And now, as then, many people confused faith in a hugely flawed leader with the truth about the world we all share.
Post-truth is pre-fascism.
Download


Copyright Disclaimer:
This site does not store any files on its server. We only index and link to content provided by other sites. Please contact the content providers to delete copyright contents if any and email us, we'll remove relevant links or contents immediately.