On the Brink: Inside the Race to Stop the Collapse of the Global Financial System -- With Original New Material on the Five Year Anniversary of the Financial Crisis by Henry M. Paulson
Author:Henry M. Paulson [Paulson, Henry M.] , Date: August 3, 2020 ,Views: 277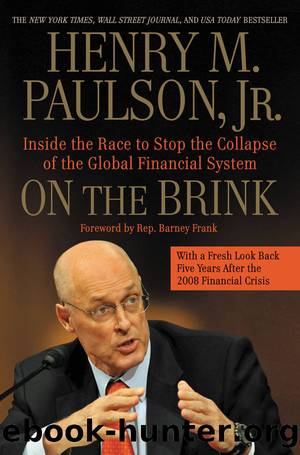 Author:Henry M. Paulson [Paulson, Henry M.]
Language: eng
Format: azw3
ISBN: 9781455582471
Publisher: Grand Central Publishing
Published: 2013-09-02T16:00:00+00:00



CHAPTER 10
Monday, September 15, 2008
I woke up exhausted Monday morning after a few troubled hours of sleep, tormented by the increasing size of AIG's problems and John Mack's haunting words from the night before: with Lehman Brothers gone, Morgan Stanley could be next. From a window of my room in the Waldorf-Astoria, I watched as the still-quiet streets of Midtown Manhattan came slowly to life. It was just after 6:00 a.m. and not yet light, but I could see taxis dropping off passengers, trucks off-loading deliveries, workers hurrying to their offices to get a jump on the day.
Only a few hours before, just after midnight, Lehman Brothers had filed for bankruptcy, the biggest in U.S. history. I wondered if anyone out there on the streets could possibly imagine what was about to hit them.
President Bush called for an update shortly after 7:00 a.m., but I had nothing new to tell him. Lehman would have gone into administration by now in London, but the markets had not yet opened in New York. All I could offer were assurances that we would stay on top of the situation and keep him informed throughout the day. With luck, I told him, the system could withstand a Lehman failure, but if AIG went down, we faced real disaster. More than almost any financial firm I could think of, AIG was entwined in every part of the global system, touching businesses and consumers alike in many different and critical ways.
I stressed that I trusted Tim Geithner to do everything possible to come up with a private-sector solution, but AIG was in deep trouble, and I was not optimistic. Its shares had plunged 31 percent the previous Friday and, after the weekend's well-publicized problems, today was sure to be worse.
I called Chris Cox at 8:15 a.m. to urge him to get prepared to take action on short sellers. Before I left for the airport, I caught up with Tim. His news wasn't encouraging—AIG was already looking worse than last night. We agreed that I would get back to Washington as soon as possible and organize my team to deal with Congress and the broader crisis. He would oversee the steps being taken to manage the Lehman failure and, most important, press ahead with a private-sector rescue of AIG, which he hoped would be led by JPMorgan and Goldman Sachs.
I boarded my flight back to D.C. as the markets were just opening, so it wasn't until I landed at 10:30 a.m. and got back on the phone with Tim that I learned the day had begun in ugly fashion. In the first hour of trading, AIG shares had plunged nearly in half, to $6.65; the Dow was off 326 points, or 2.9 percent. In London, the FTSE 100 Index was down 183 points, or 3.4 percent.
Shortly after I'd gotten off with Tim, my friend and former Goldman colleague Ken Brody, now chairman of Taconic Capital Advisors, reached me.
"Hank, you made a big mistake," he said. "This market is too fragile to handle a Lehman Brothers bankruptcy.
Download


Copyright Disclaimer:
This site does not store any files on its server. We only index and link to content provided by other sites. Please contact the content providers to delete copyright contents if any and email us, we'll remove relevant links or contents immediately.