Nightmare In Pink by John D MacDonald
Author:John D MacDonald [MacDonald, John D] , Date: May 6, 2021 ,Views: 57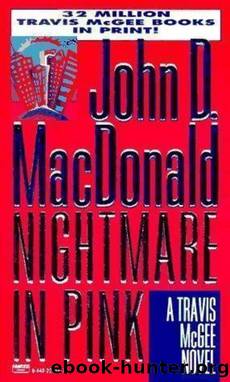 Author:John D MacDonald [MacDonald, John D]
Format: epub, mobi
Published: 2009-07-07T13:14:03+00:00



* * *
At 121 East 71st, the doorman held the door for us. I walked her past the desk and back to the elevators. She smiled her weak apologetic thanks, touched my hand and stepped in and pressed the button for the ninth floor.
I went to the desk. The pale clerk looked suspiciously at me through heavy glasses. "Yes sir?"
"Miss Hersch was feeling faint. I want to give her a chance to get up there and then phone up and see if she is all right."
He hesitated, nodded, lifted a house phone onto the counter. He plugged me into 9A and rang.
Bonita answered. "Yes?"
"Trav. I wanted to be sure you got up there all right."
"I'm all right. Sweet of you to phone."
"I'd like to see you again."
"Phone me at the office, dear. Thank you for the drinks and the nice talk."
I thanked the clerk and went out. The early dusk was arriving. There was a chill in the air. I exchanged weather pleasantries with the doorman and gave him a dollar to whistle me up a cab. I wanted him to remember me as the legitimate guest of a resident of his carefully guarded tower.
Download


Copyright Disclaimer:
This site does not store any files on its server. We only index and link to content provided by other sites. Please contact the content providers to delete copyright contents if any and email us, we'll remove relevant links or contents immediately.