Modernism, Sex, and Gender by Celia Marshik Allison Pease
Author:Celia Marshik,Allison Pease , Date: March 19, 2020 ,Views: 220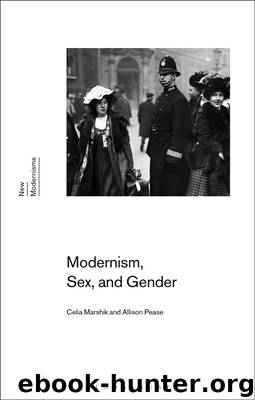 Author:Celia Marshik,Allison Pease
Language: eng
Format: epub
Publisher: Bloomsbury UK



FIGURE 5 This 1933 illustration of Ernest Hemingway by Mexican artist Miguel Covarrubias, though never published, may have been intended for the Vanity Fair series "Private Lives of the Great"; herpicide in hand, the image clearly references Hemingway's dispute with Eastman. © María Elena Rico Covarrubias.
Critics have read Hemingway's relationship to gender as either enforcing rigid gender boundaries, and thus homophobia, or exploring how the cultural constraints of gendered behavior operate to limit human potential. Mark Spilka's Hemingway's Quarrel with Androgyny (1990) argues that he enforced rigid gender boundaries with the claim that Hemingway's progressive parents had raised their children with no sex roles, or reversed ones, and that the writer's career was an attempt to deny and explore what Spilka calls "the wound of androgyny" through a particularly rigid masculine pose. Robert Scholes and Nancy Comley see more flexibility and subtlety in terms of gender, arguing that Hemingway's work explores the constraints of culturally engendered behavior and provides a more complex and sensitive presentation of gender than Hemingway's public personae has allowed (Hemingway's Genders 1994).
The Sun Also Rises offers an archetype of literary postwar masculine crisis. A wounded and now-impotent former soldier is made to look on as the woman he loves enacts a series of love affairs in front of him. His impotence, voyeurism, and lost manhood are right on the surface of the story. The status and meaning of masculinity in the novel has provoked rich debate. Debra Moddelmog claims Hemingway critiques sexual and gender binaries whereas Ira Elliott argues that Jake Barnes is unable to accept the potentialities of gender and sexual mutability. David Blackmore sees in Jake's war wound, and the lost masculine potency it represents, a metaphor for social anxiety about masculinity and sexuality. Greg Forter positions Jake's loss as symbolizing the loss of two different and incompatible forms of manhood, the sentimental and the hard, and writes, "masculinity is not simply mourned as a lost illusion of the past. Nor is it openly celebrated as an authentic content for modern man—a move forbidden by the modernist redefinition of manhood in relation to lack and loss. Instead, phallic manhood is melancholically idealized as lost" (30). Although more has been written about masculinity in The Sun Also Rises, this brief synopsis shows both how masculinity studies have opened up new interests in modernist texts and continues to redefine how we understand canonical works with fresh readings.
Reactionary masculinities
There are repeated tropes and motifs in the scholarship of modernist masculinities. The following section of this chapter will explore three overriding themes in modernist literature and criticism as they have occupied the bulk of critical work about masculinities in modernism to date: (a) reactionary masculinities, (b) soldiers, imperialists, and cowboys, and, finally (c) the others who define European and American masculinities: Jews, blacks, and imperial subjects.
As Huyssen and Theweleit established in their work, a foundational aspect of modernist masculinities is fear: fear of women, fear of the masses, fear of decadence, fear of sexuality, fear of loss of
Download


Copyright Disclaimer:
This site does not store any files on its server. We only index and link to content provided by other sites. Please contact the content providers to delete copyright contents if any and email us, we'll remove relevant links or contents immediately.