Model Mystery Trilogy 01: Model Crime by Carolyn Keene
Author:Carolyn Keene [Keene, Carolyn] , Date: August 9, 2020 ,Views: 67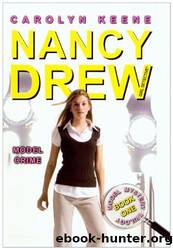 Author:Carolyn Keene [Keene, Carolyn]
Language: eng
Format: epub
Published: 0101-01-01T00:00:00+00:00



I called Sydney the next morning, hoping to talk over the case with her. But she sounded rushed and distracted as soon as she picked up the phone.
"Sorry, I can't talk now," she said apologetically. "I'm on my way out to get my hair and makeup done. We're doing that filming at the stadium today, remember?"
As soon as she said it, I vaguely recalled what she meant. Along with the normal wedding preparations, Sydney was expected to participate in several extra TV shoots. Today, Friday morning, she and her model friends were supposed to get together with the Daredevils gang to act out some unusual international wedding traditions for the cameras. It all sounded pretty silly to me. Fortunately, as noncelebrity members of the wedding party, my friends and I weren't expected—or even invited, for that matter—to join in.
"Oh, right," I said, disappointed that our chat would have to wait. After all, the wedding was a week from tomorrow, which didn't leave much time to get to the bottom of things. "Well, maybe later, then. Have fun!"
"I'll try." Sydney didn't sound too optimistic.
After I hung up, I just stood there in the hallway of my house for a moment, staring at my phone and wondering how to proceed. I was still deep in thought when Hannah Gruen came downstairs. Hannah has been our housekeeper ever since my mom died when I was three. She's definitely a member of the family as far as Dad and I are concerned.
"What are you up to today, Nancy?" she asked. "Feel like some shopping? I need to pick up a few things at the mall."
"Sorry, Hannah, I can't," I said, snapping out of my thoughts. "I think I need to be somewhere else this morning."
An hour later, I was walking across the parking lot of the River Heights University Stadium, Bess and George at my side.
"Are you sure they're going to let us in?" Bess asked as we neared the main gate. "Security has been pretty tight around this whole production."
"Probably be even tighter after what happened yesterday," George agreed. "Haven't you ever heard of a closed set, Nance? We're not on the list for today's shoot."
"We'll get in," I said with more confidence than I felt. "How can they turn us away? We're Sydney's bridesmaids."
Unfortunately, the large man standing guard at the entrance didn't seem particularly impressed when I shared that with him. "Sorry," he said, scanning a sheet of paper on the clipboard he was holding. "Not on the list."
I bit my lip, frustrated. I'd decided we didn't have any time to waste if I wanted to solve this mystery before the wedding. Besides, if the saboteur struck again during today's filming, I wanted to be there.
"But we just need to talk to Sydney," I insisted. "If you call her and tell her we're here—"
Before I could finish, I spotted Candy and Akinyi coming toward us from inside the stadium. Both of them were dressed in Hawaiian-style outfits, complete with grass skirts.
"Hi!" Candy greeted us, sounding a little distracted.
Download


Copyright Disclaimer:
This site does not store any files on its server. We only index and link to content provided by other sites. Please contact the content providers to delete copyright contents if any and email us, we'll remove relevant links or contents immediately.